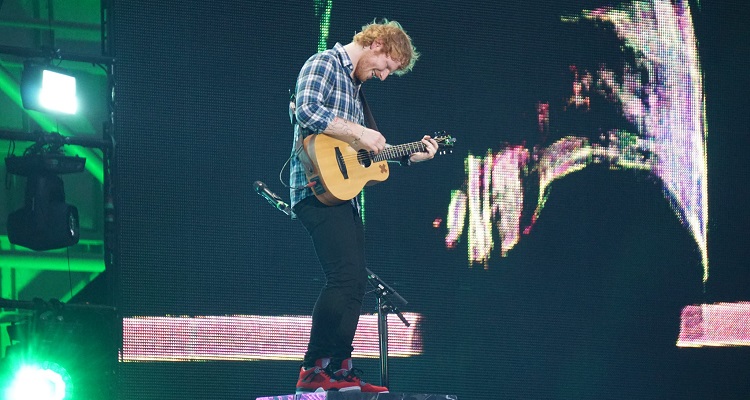 Ed Sheeran's ticket prices are drastically lower than Bruno Mars, Taylor Swift, and the Rolling Stones.  Guess who made the most money?
Pollstar has released its 2018 mid-year report on the live concert industry.  And the industry has never looked so good.
Looking at the Top 50 worldwide tours, ticket sales brought in a record-setting gross of $2.21 billion around the world.  This marks a 12% increase over last year when Pollstar reported a total gross of $1.97 billion.  The number also marks the chart's biggest rise since 2015-16.
Soaring ticket prices fueled the live concert industry's record-setting gross.  The average ticket price was $96.31, a 14.1% increase ($11.91) over 2017's $84.40.
Pollstar noted the rise in ticket prices were part of the industry's two-fold aggressive pricing strategy.
First, costlier ticket prices help promoters better meet demand.  Second, higher prices also exclude the secondary ticket market.  Despite this year's record-setting gross, however, fans purchased slightly more tickets last year — 23.4 million to 22.9 million.
Ed Sheeran topped the 2018 Mid-Year Top 100 Worldwide Tours chart.  His performances brought in a $213.9 million gross.  Last year, Guns N Roses topped the list with $151.5 million.  Bruno Mars took second place this year with $113 million.
Oddly enough, Sheeran's performances had a much lower ticket price average than Mars' – $80.90 to $132.27.
Yet, the British singer sold many more tickets – 2,624,148 to 857,359.  Out of the Top 10 tours, Sheeran also had the lowest ticket price average.  He performed 52 shows in 21 cities.
The same dynamic held for other high-ticket superstars like Taylor Swift and the Rolling Stones.
So, how's the North American live concert industry looking?
Pretty good, actually.
North America's Top 100 total gross stayed constant at $1.65 billion against 2017's $1.64 billion.
With ticket prices averaging $138.20, Pink took the top spot with a $95.6 million total gross.  Yet, this number fell short by $23.8 million over 2017's North American top tour, U2 ($118.1 million).  This year, Eagles ($84 million), Justin Timberlake ($83.8 million), and Taylor Swift ($73.5 million) out-grossed last year's No. 2, Metallica ($68.7 million).
Average show gross for the mid-year North America Top 100 chart hit a record high of $742,000.  This number represents a 12.7% ($84,000) increase over last year's $658,600.
Ticket prices also reached a new high of $85.67, up 19.1% over last year's $72.16.
How did this happen?  Simple.
Concert promoters changed their strategy in 2018.  They offered fans a greater range of tickets with 'more tiers.'  For example, concerts generated more revenue from in-demand lower bowls than inexpensive upper seats.  Promoters had left nosebleed tickets "in the hands of the secondary market or unsold," leading to higher grosses.
That's left some embarrassing 'non sellouts' for artists like Taylor Swift, though the broader impact on revenue seems positive.
You can check out the complete report here.
---
Featured image by Mark Kent (CC by 2.0).