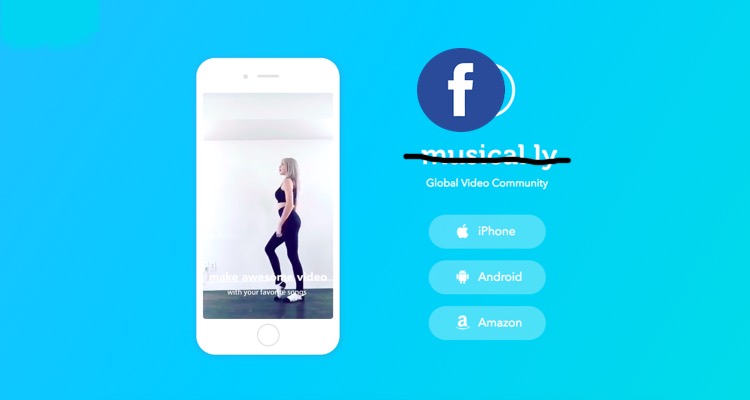 Could talent singing competitions help Facebook finally take down Musical.ly?
Several months ago, independent researcher and engineer Jane Manchun Wong found an interesting but unannounced feature on Instagram.
To better compete against struggling rivals Snapchat and Musical.ly, the Facebook-owned app would release 'music stickers.'  From Instagram Stories, users could share a sticker of songs, playlists, and albums currently streaming on music apps.
Instagram unveiled the feature in late June.
Now, Wong has uncovered Facebook's new plan to take Musical.ly head on.
'Facebook's Got Talent'?  Sing to your heart's content and compete against others.
Following years of successful licensing negotiations with major rights owners, including labels, publishers, and indies, Facebook has started testing a bevy of brand-new music features.
Sound Collection allows users to insert audio clips into Facebook and Instagram videos, including "songs, vocals, noises, and instrumental tracks spanning genres like hip hop, pop, jazz, country and more."
Lip Sync Live lets users pick popular songs and lip sync along to it, a la Musical.ly.  They can select a song from hundreds available, including Top 40 hits, add a description, and start lip syncing.
Don't expect Facebook to stop there, however.  The company will soon release a new feature called 'Talent Show.'
Wong recently discovered code buried within the mobile app.  She has a lengthy history of announcing yet-to-launch features in other apps.  Wong has revealed Lyft's unlaunched bike/scooter program, Instagram's two-factor authentication system, and IGTV's carousel display.
Hidden within the Facebook mobile app, developers have hidden multiple references to this new feature.  Wong spotted lines displaying 'Talent Show,' 'Talent Show Stage,' and 'Talent Show Audition.'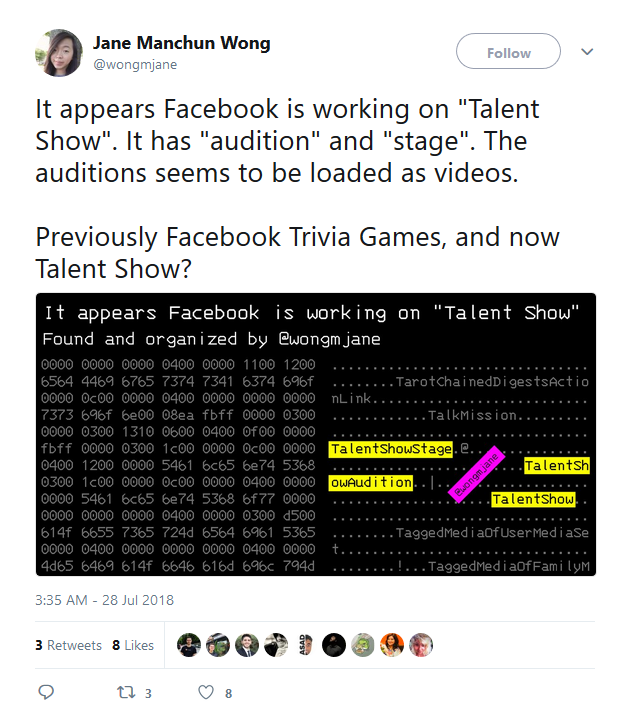 Here's how Talent Show works.  Users pick a popular song, record their singing audition, and submit the video for review.  Wong discovered Facebook Talent Show and Instagram Music Stickers source the music from submissions by record labels through the platform's Rights Manager.
Labels use the Rights Manager to track copyrighted track usage.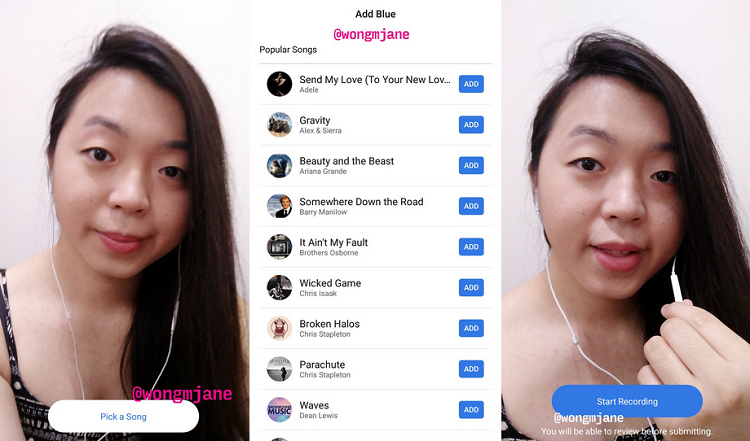 She added that the feature feels "like a cross between Musical.ly and Fifteen Million Merits from Black Mirror."  Yet, just as with its recently-announced Gameshows feature, Talent Show will likely be restricted to Facebook Pages.
As with other features, Facebook has yet to comment on Wong's discovery.  Yet, with the code already existing within the mobile app, expect Talent Show to roll out soon.
---