Travis Scott is taking the Astroworld marketing plan to an entirely new level.
Houston-based rapper Travis Scott is looking to spread the love to his fans after the success of his Astroworld album.  The rapper sent out a tweet saying he would distribute $100,000 to any of his fans that tweet lyrics from the album.
The only other stipulation is that fans need to attach a 'Cash' tag (more on that below).
If you're unfamiliar with Cash App, it's a Venmo competitor that allows the instant exchange of money between two parties.
We're guessing there's another smart sponsorship deal at play here, with Scott savvily inking partnerships this week.  Fans have already begun tweeting pictures of the amounts they've received from Travis Scott, with amounts ranging from $50 up to $1,000.
According to his most recent tweet from Tuesday night, Scott's got about $75,000 left to split up with fans.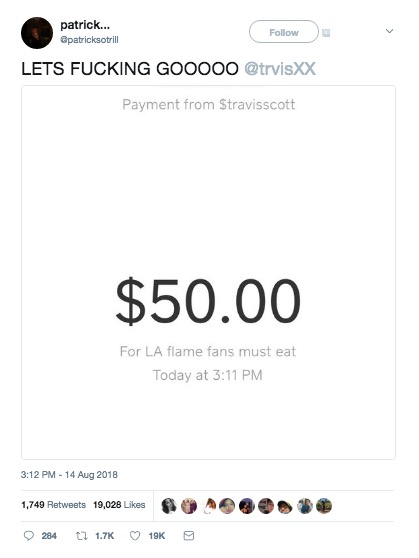 It's interesting to note the promotion is being done through Twitter using Cash App, which is run by Twitter CEO Jack Dorsey.
Neither Scott nor Square have publicly commented on the likely promotion.  Dorsey is also the founder and CEO of Square, which created Cash App.
Scott is celebrating the success of his most recent album, Astroworld, after it went gold just a week after its debut.  That album release wasn't without controversy, however, as transgender icon Amanda Lepore spoke out after being removed from the album's cover.  Scott issued a statement saying he has nothing but respect for the LGBTQ community and he directly thanks Lepore for being a part of the album.
Scott has also announced an Astroworld Festival that will be held in his native city of Houston this November. The Six Flags theme park Astroworld inspired Scott's latest album, so it's only fitting that his festival will take place in Houston next to the closed venue.
The festival is slated for November 17, and will feature performances by Scott and other artists, though no information about the lineup has been released yet.  Scott said he intends to put the line-up together himself as a tribute to the city of Houston.
---