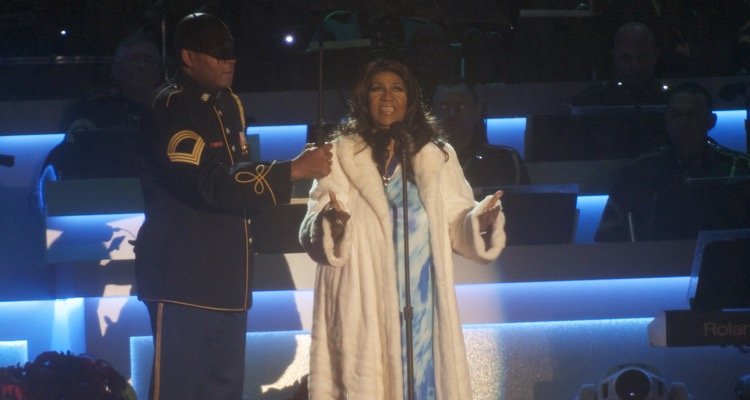 One of music's most legendary, groundbreaking artists has passed away.
Aretha Louise Franklin, one of the most legendary and soulful performers of our time, died this morning in Detroit.  She was surrounded by family and friends when she passed.  The Queen of Soul was battling a serious health issue this week related to pancreatic cancer.
The news was confirmed by Franklin's publicist, Gwendolyn Quinn.
The singer was under intense hospice care prior to her death, with family members reportedly expecting the legendary singer to pass away at any moment.  The situation had drawn support from all corners of the music community and beyond, with everyone from Beyonce to former president Bill Clinton offering their concern.
In the wake of her death, there's already talk of a benefit concert, with an outpouring of condolences and concern saturating social media.
Franklin's incredibly versatile voice and performance capability breathed through a seemingly endless string of hits, including "Do Right Woman — Do Right Man," "Think," "(You Make Me Feel Like) A Natural Woman," "Chain of Fools," and "Rock Steady".
"Respect" may go down as her most memorable hit, embodying a spirit of empowerment and strength that defined her career and persona.  But Aretha Franklin ultimately charged more than 100 songs, while scoring a total of 18 Grammy Awards.
A lifelong performer, Franklin was widely credited as an influence for generations of future singers.  That includes Whitney Houston, Natalie Cole, and Mariah Carey, among dozens of others.  "Aretha is a gift from God," Mary J. Blige once said.  "When it comes to expressing yourself through song, there is no one who can touch her. She is the reason why women want to sing."
Franklin's career started at her father's New Bethel Baptist Church in Detroit, where her talent was encouraged and actively coached.  But Aretha quickly evolved into a versatile singer, with the ability to breathe emotion into jazz, blues, soul, r&b, and even opera.  She could not only sing in any genre, she could uniquely stamp her own style into form of music.
Forever a product of Detroit, one of Franklin's last performances was at Ford Field, home of the Detroit Lions.  On a Thanksgiving Day game, the Queen of Soul belted out a lengthy version of the National Anthem, a political statement that required no further commentary.
Aretha's rapid ascent started in the 60s, though the soulful singer was largely sidelined by the 70s surge of disco.  Thankfully, Franklin didn't attempt to adapt to the pervasive style, but did reappear with a more pop-infused sound in the 80s.  Songs like 'Who's Zoomin' Who?" and "Freeway of Love" were catchy, but not part of the soulful cannon that really defined Franklin's career.
Incidentally, Aretha Franklin's father, C.L. Franklin, was a bit of a celebrity himself.  A noted pastor with a charismatic oratory, C.L.'s sermons were actually broadcast nationwide.  It was the perfect springboard for Aretha's career, with gospel choir offering early and constant exposure to music.
---