Fox News is still recovering from its breaking news gaffe.
Earlier this week, the music world lost one of its most revered performers, as Aretha Franklin passed away in her Detroit home surrounded by family and friends.  The soul diva was 76 years old, and news outlets quickly began honoring her career.
Unfortunately, Fox News tweeted out the tribute image honoring Aretha Franklin, but mistakenly included a picture of Patti LaBelle, who is still alive and kicking at age 74.  Now, the news company has released a statement to apologize for the gaffe.
"We sincerely apologize to Aretha Franklin's family and friends. Our intention was to honor the icon using a secondary image of her performing with Patti LaBelle in the full-screen graphic, but the image of Ms. Franklin was obscured in that process, which we deeply regret."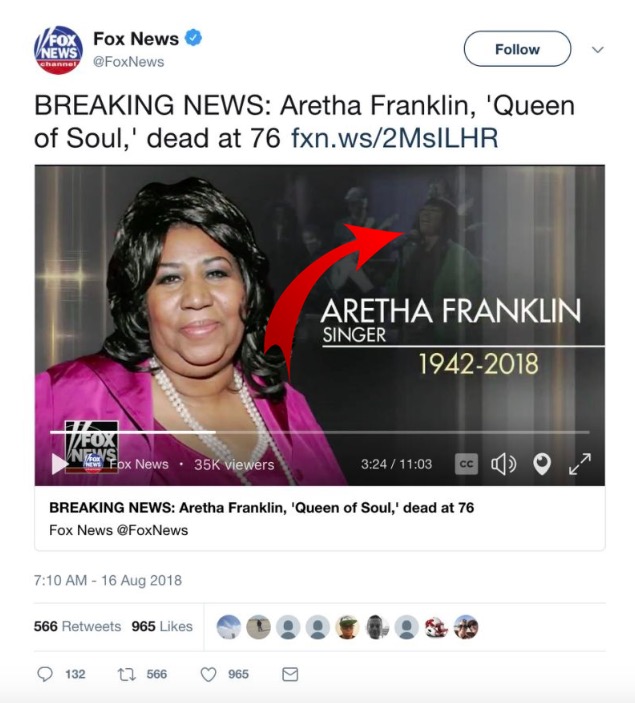 Some internet sleuthing of the background image shows that the original was of Patti LaBelle and did not feature Aretha Franklin at all.  The statement led to widespread conjecture that Fox was fudging things a bit.
Now memes mocking the gaffe have appeared online with images of Tyler Perry's Madea and Omarosa Manigault Newman.
Dubbed the Queen of Soul, reports that Franklin was "gravely ill" surfaced ahead of last weekend.  She underwent a surgery in 2010 that was not confirmed to be related to pancreatic cancer at the time, but was described as highly successful.
Aretha Franklin's publicist released a statement after the singer's death saying her official cause of death was advanced pancreatic cancer of the neuroendocrine type.  Pancreatic cancer most commonly affects those aged 50 and over and more than half of the diagnosed cases are found in patients who are 75 or older.
---