Lana Del Rey will not be performing at the Meteor Festival in Israel next week.  The pullout is likely the result of heavy political pressure by anti-Israeli groups.
Despite a hefty payout reportedly in the $700,000 range, Lana Del Rey will not be performing at the Meteor Festival in northern Israel next week.  In a statement issued this morning (August 31st) on Twitter, Lana Del Rey confirmed that she has pulled out as a headliner just days before her scheduled performance.
The singer's performance was slated for the evening of September 7th.
Lana Del Rey was easily one of the biggest draws for the festival.  But the high-profile booking made her the focus of intense lobbying by anti-Israeli groups.  Other, lesser known artists have also dropped out, though headliners like A$AP Ferg, Pusha T, Flying Lotus, and Kamasi Washington remain on the bill (at least for now).
Del Rey's statement suggests a political reason for the cancellation, though not necessarily an anti-Israeli one.  Here's what she just posted on Twitter:
"It's important to me to perform in both Palestine and Israel and treat all my fans equally.  Unfortunately, it hasn't been possible to line up both visits with such short notice and therefore I'm postponing my appearance at the Meteor Festival until a time when I can schedule visits for both my Israeli and Palestinian fans, as well as hopefully other countries in the region.  

Thanks, 

L"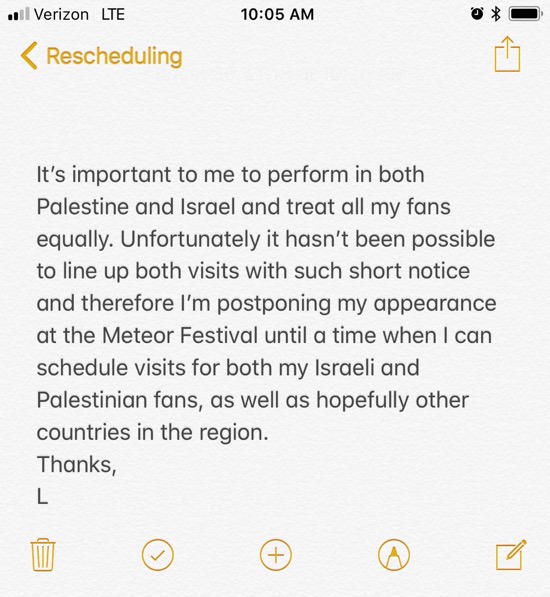 There's a key word in there — 'postponing' — which suggests that a broader tour of the region may lie ahead.  But that's little consolation to Meteor Festival organizers and attendees.
Earlier, Lana Del Rey refused to cancel the Meteor date, despite heavy pressure from anti-Israeli voices like Roger Waters of Pink Floyd, BDS, and others.  But Del Rey indicated that she was also planning a Palestinian date to coincide with the Meteor Festival.
The Meteor Festival has issued a counter-statement accusing the singer of exploiting them for publicity.
The Meteor Festival is kicking off on September 6th in the Galilee region of upper Israel.  Accordingly, the group has been left scrambling to fill some big shoes, and may also be dealing with refund requests from fans.
Here's their just-issued statement:
"Just got the word that Lana will be a no-show at Meteor. We do appreciate her for choosing Meteor to help her score some press attention.
"With that, Meteor will take place with the same badass mix of local and international talent that we've been working with this past year. The mission that we've all been on together is reaching the finish line in just a matter of days as planned: a pioneering, independent festival in the Upper Galilee of a magnitude and quality that has yet to be seen in the Middle East."
The $700,000 fee was reported by Variety, which also reported that festival organizers were 'livid' over the cancellation.  According to Variety's sources, Lana Del Rey's representatives initially approached Meteor about the booking, making the pullout a stinging blow.
Lana Del Rey is booked by Primary Talent International, though we're not sure who made the purported overture.
Of course, artists frequently face pressure for playing Israeli dates.
Some back out, some refuse to budge, and others simply ignore the noise.  But Lana Del Rey initially appeared apolitical about the fuss, focusing instead on the music.  And her points were salient, with apt comparisons to political issues in countries like the U.S.
After all, if you hate America's politics, does that mean you shouldn't play a gig at MSG?
"I believe music is universal and should be used to bring us together," Del Rey initially stated.  "Performing in Tel Aviv is not a political statement or a commitment to the politics there just like singing here in California doesn't mean my views are in alignment with my current government's opinions or sometimes inhumane actions."
Actually, the venue wasn't Tel Aviv, but Lana Del Rey did have a Tel Aviv gig booked back in 2014.  She also canceled that date, largely because of heavy violence in the country.
Incidentally, Lana Del Rey did receive the backing of numerous music and entertainment industry executives.
In a joint letter issued last week, executives like Daniel Glass of Glassnote Entertainment, industry attorney Donald Passman, and Josh Deutsch of Downtown Records backed Del Rey's resolve.
The letter, which can be read in full here, included this statement:
Those of us who care about peace must not allow the boycott movement to succeed in using art as a weapon to keep people apart instead of using it as a tool to bring them together. We believe in building bridges, not boycotts.

We also agree with Lana Del Rey's point that performing in a particular country doesn't indicate support for the government of that country. Further, the criticism many boycott activists level against Israel is inflammatory and filled with misinformation. The charges of 'apartheid' and 'genocide,' which boycott activists make on social media, are completely devoid of fact.
We'll have more as this develops.