The Village Voice is shutting down for good, just a year after the historic paper stopped its print edition.
According to a report from The Gothamist, owner Peter Barbey called a staff meeting where he revealed the change and let everyone know operations were ceasing.
The Gothamist obtained an audio recording of this conversation, in which you can hear Barbey addressing his staff.
"Today is kind of a sucky day.  Due to, basically, business realities, we're going to stop publishing Village Voice new material.  I bought the Village Voice to save it; this isn't exactly how I thought it was going to end up.  I'm still trying to save the Village Voice.  You had amazing grit, to remain professional in doing what you're doing and hanging in there to the end."
It's a bittersweet end to an alternative newspaper founded in 1955.  The Village Voice has served up local coverage of the music and art scene in New York City for more than 60 years.
Even worse: the villagevoice.com still attracts more than a million views a month, according to traffic analyst SimilarWeb.  But those volumes will likely dip, given that the site's last artists were written today.
You can view the full statement from Barbey below.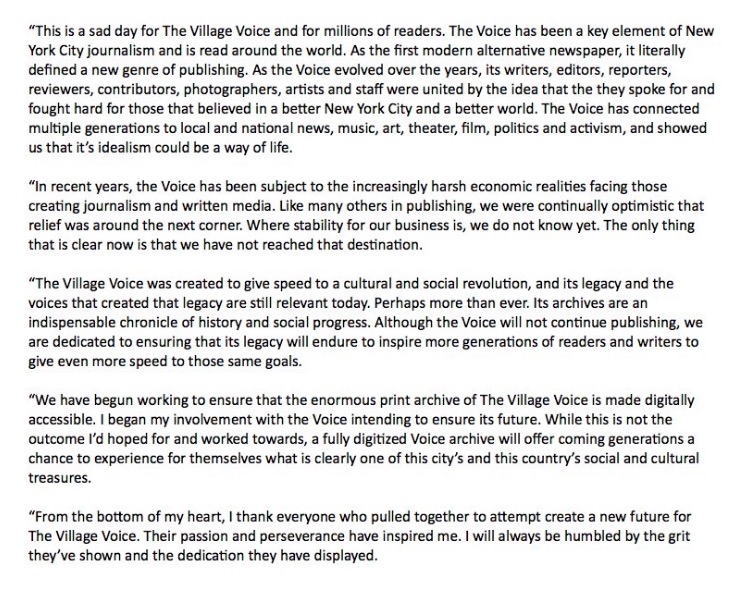 It's a depressing announcement, but not a surprising one given the state of local media.
Local news coverage in New York City has been on the decline for decades.  The New York Daily News lost half of its staff in July, and both the New York Times and Wall Street Journal have reduced their local news coverage over the past two years.
The loss of the Village Voice will be felt throughout the community that relied on its coverage of local cinema, art exhibits, and music with high-quality writing and acerbic wit that many New Yorkers have come to expect in their culture news.
Despite the loss, Barbey says the skeleton crew team left will begin working to ensure that the print archive of The Village Voice is available to access digitally.