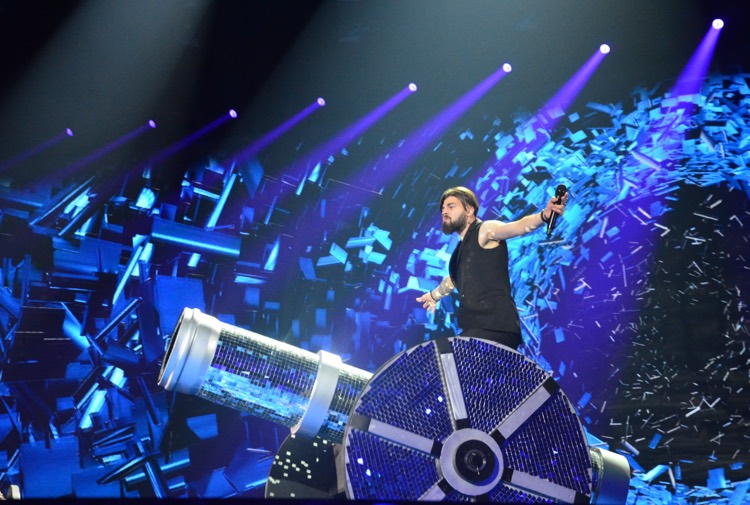 After months of delays and debates, Eurovision has announced that the next Eurovision Song Contest will be held in Tel Aviv.
The decision was delayed multiple times after the announcement that Israel would be hosting the competition in 2019. Israel's government wanted the competition hosted in its capital of Jerusalem, but backed down from that decision after fears of a boycott arose.
But Israel will remain the host country, with an adjustment to the city.  The executive producer of Eurovision, Jon Ola Sand, stated that ultimately Tel Aviv was selected due to its location and setup.
"We'd like to thank all the Israeli cities that bid to host the Eurovision song contest in 2019," Sand relayed.  "In the end, we decided that Tel Aviv has the overall best setup to host the biggest entertainment show in the world.  We are excited to bring the Eurovision song contest to a brand new city, and are looking forward to working together with KAN to make 2019's Eurovision Song Contest the most spectacular one yet."
Speculation suggests that Tel Aviv was selected because of the EBU's demands that visitors and participants be allowed to attend the contest regardless of political views (the EBU oversees the Eurovision event).  Tel Aviv is considered a less controversial city than Jerusalem — and it's also regarded as a gay-friendly tourist destination.
This announcement marks the first time that Tel Aviv will host Eurovision, but the third time for Israel overall. Israel also hosted the 1979 and 1999 events, both of which were held in Jerusalem.
The selection could still draw intense boycott demands from anti-Israeli groups.
Just recently, Lana Del Ray pulled out of Israel's Meteor Festival, a high-profile cancellation hailed as a victory by groups like BDS.  Others, including Of Montreal, also pulled out, leaving large gaps in the festival schedule.
Pink Floyd's Roger Waters also applied heavy pressure on Lana Del Rey to cancel.
The singer initially stood firm on her decision to play the festival, but indicated that she would arrange another concert for Palestinian audiences.  When that became logistically difficult, Del Rey pulled out of the Meteor event entirely, just days before her scheduled showtime.
One report indicated that Lana Del Rey was paid a handsome advance of more than $700,000 by festival coordinators, which underscores the potential career risk that the singer was considering.  Other artists like Pusha T, Kamasi Washington, and A$AP Ferg stayed on to headline the event on the weekend of September 7th.
At this stage, it's difficult to determine if the Eurovision Song Contest will draw the same political attention.  The event will lack the same superstar wattage, making cancellations less dramatic for Israeli opponents.
So far, it's been relatively quiet.