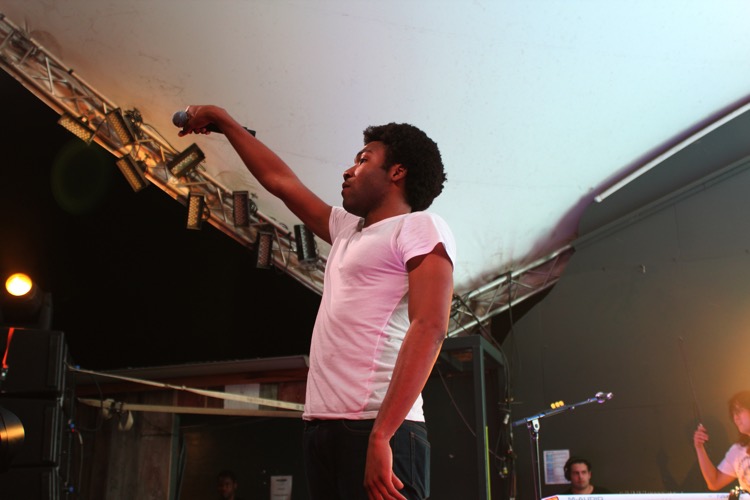 The legal battle between Donald Glover and his former record label is heating up after the performer filed a counterclaim last week.
Better known as Childish Gambino, Glover says that label Glassnote Records has been miscalculating costs in an alleged breach of a licensing agreement.  He's alleging outright royalty fraud with malicious intent, which means this ugly situation is about to get uglier.
Glassnote preemptively filed against Glover back in July, in response to accusations that the label was stealing SoundExchange non-interactive streaming licenses.   Glassnote stated that it had paid $8 million in royalties since 2011 to Glover, with another $2 million payment expected later this year.
Glassnote's preemptive strike asserted that as the rightful copyright owner, the label is entitled to approximately 50% of all streaming non-interactive royalties, with 45% allocated for Glover and 5% for non-featured artists like backup singers and producers.
That arrangement is based on existing copyright law, and administered via SoundExchange.  Importantly, that initial breakdown in payment is not something controlled by Glassnote.
Furthermore, Glassnote alleges that Glover is attempting to collect the label's fair share of the streaming radio royalties, and is asking the U.S. District Court for the Southern District of New York to clarify the split in a declaratory judgment.  That would theoretically avoid an expensive and messy lawsuit, though it hasn't calmed Glover's legal team — or produced the declaratory judgment.
In Glover's countersuit against Glassnote via his company mc DJ Recording (DJR), Glover alleges negligence and breaches of contract for good faith, fair dealing, and fiduciary duty.
Glover's attorney Jonathan D. Davis succinctly summed up the issue.
"Despite making millions of dollars for Glassnote, attracting notoriety, interest, and cache for the label, and securing multiple Grammy nominations and awards, Glassnote refuses to account and pay to DJR royalties that it collected on DJR's behalf, in breach of its warranties, representations, and covenants under the License Agreement."
Glover's company says it retained the ownership of Childish Gambino's masters and only licensed them to Glassnote.
Under that agreement, Glassnote was supposed to pay DJR 50% of its net proceeds, which would include the net proceeds of any royalties paid out through SoundExchange.
In Glover's original complaint, his legal team demanded a payment of "$1,500,000 as well as 100% of the 'rights owner' share of SoundExchange royalties 'now and in the future'."
Another part of DJR's complaint against Glassnote is that an audit performed in 2017 determined "substantial royalties" were due to the company for a period between July 2014 and December 2016.
DJR also says that the license agreement between Glover and Glassnote does not give Glassnote discriminatory permission to decide for itself what income or other monies earned from the exploitation of records, masters, videos are to be split or otherwise shared with DJR.
According to Glover's attorneys, the independent audit of Glassnote's accounting process determined that Glassnote willfully misreported DJR's share of Net Proceeds for several reasons.  Here are some of DJR's allegations from that audit.
* DJR says (and Glassnote concedes) that a miscalculation of distribution fees in regards to Canadian exploitation occurred.
* International revenues were underreported, and Glassnote did not properly register in all foreign territories. (Glassnote concedes there may be unreported international income.)
* Producer royalties were miscalculated and excess deductions were taken from DJR's share of royalty payments, including overpayment of producers. (Glassnote concedes that producer royalties were miscalculated.)
* Miscalculation of DJR's share of net merchandising profits and misreporting of manufacturing expense charges. (Glassnote conceded to making undocumented charges.)
* Omission of interest payments to DJR for unpaid or underreported Net Proceeds. (Glassnote concedes interest payments are due, but disputes the full amount.)
* Failing to pay DJR its portion of the Universal Music Group advance and any interest payments associated with that payment.
Because Glassnote (apparently) concedes most of these allegations and the Net Proceeds amount was underpaid by more than 10%, Glassnote could be liable for reimbursing DJR's accountant "reasonable costs" for having to discover these errors in the first place.
Glover is asking for the dismissal of Glassnote's original complaint in its entirety, along with damages associated with his counterclaim.
You can view the full countersuit here, which makes for interesting reading.