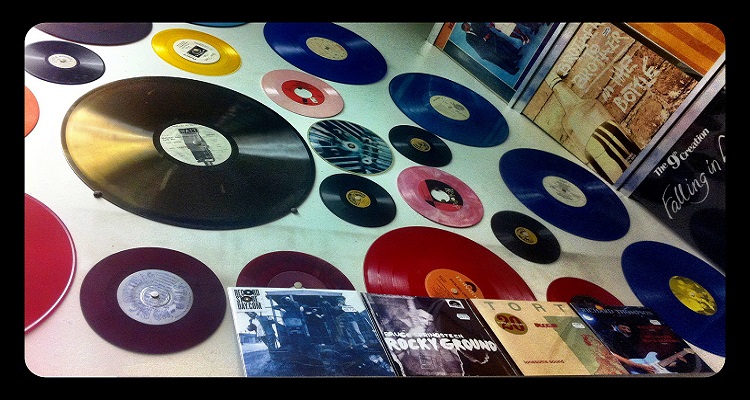 When it comes to vinyl numbers, who should we believe?  The RIAA and Nielsen Music, or Best Buy?
According to Nielsen Music, American consumers purchased 14.3 million vinyl albums last year.  Up 9.3% over 2016, vinyl sales have now experienced growth 12 years straight.
The RIAA recently revealed vinyl sales jumped 13% in the first half of 2018 over the same period last year.  Yet, CD sales plummeted 41%.
Both have revealed one thing – vinyl records have and will continue to grow in the near future.
But, not everyone agrees.
The curious tale of Best Buy's vinyl sales.
Viewing Best Buy's sales rank data, vinyl albums have steadily faded out.
Breaking down the sales rank of 22,888 individual record UPCs at the retail chain, Thinknum, a data startup, found vinyl sales have slipped for almost 2 years.
After reaching a rank of 50,600 on January 4th, 2017, sales dramatically decreased.  In a span of a few days, vinyl sales went from 59,500 on January 11th to 83,700 on January 14th.  They haven't recovered.
In November 2017, the medium experienced a large surge.  Due to vinyl aficionados gifting records, the medium went from a sales rank of 81,500 to 57,100.
In an email to Digital Music News, Thinknum explained,
"Because Best Buy is a popular shopping destination during the holidays, it makes a lot of sense that people would grab a record for their vinyl-loving loved ones."
The Beatles' Abbey Road was the top record sold at the retail chain that holiday season.  Guardians of the Galaxy, Legend, Dark Side of the Moon, and Purple Rain rounded out the top 5.
So, what happened?
Thinknum attributed the decline to numerous factors.
First, when you think of Best Buy, vinyl doesn't immediately come to mind.  Plus, the store's music collection is "often limited to mainstream artists."
Second, most record buyers prefer to shop at indie record stores, used record swaps, or in bulk on Amazon.
Third, the retail chain simply could've had a drop in inventory.  So, people can't exactly buy vinyl if stores don't supply enough records.
In fact, the only time the medium has jumped in sales rank is during the busy holiday season.  Best Buy usually doubles-down on its vinyl inventory, leading to higher sales.
Yet, the data startup warns analysts shouldn't easily dismiss the retail chain's data.
"In other words, Best Buy is a relatively thin slice of the record-buying pie, but there's clearly a sales-rank slide at play here."
You can check out the complete report here.
---
Featured image by Julieta Álvarez Leal (CC by 2.0).