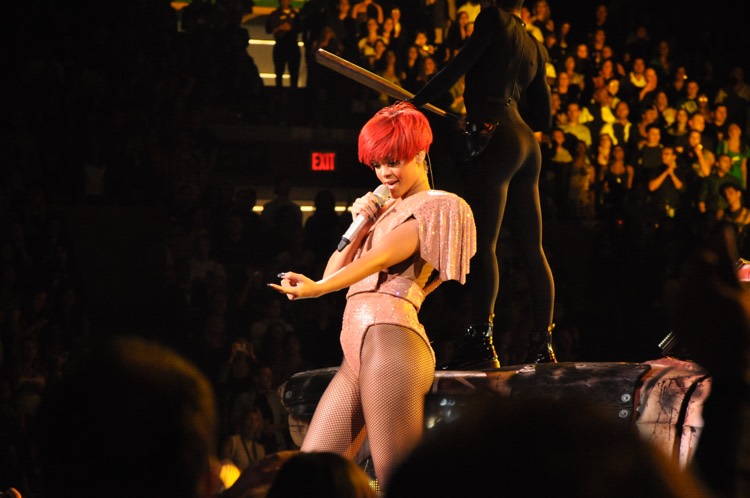 Rihanna has reportedly turned down an offer by the NFL to perform at the upcoming Super Bowl LIII Halftime Show.
The development comes from a source to US Weekly, who noted that Rihanna rebuffed the offer to show support for Colin Kaepernick.
(Updated: sources to Rolling Stone and Entertainment Tonight have both affirmed the original reporting from US Weekly.  So far no word from Rihanna or the NFL.)
Maroon 5 will be playing the event instead, which takes place on February 3rd, 2019 in Atlanta.
"The NFL and CBS really wanted Rihanna to be next year's performer in Atlanta," the source noted. "They offered it to her, but she said no because of the kneeling controversy. She doesn't agree with the NFL's stance."
Kaepernick was the first player to kneel during NFL pre-game national anthem ceremonies in protest of police brutality (among other racial issues in America).  That basically cost the quarterback his employment, though Kaepernick is suing the NFL and its owners for collusively keeping him out of the league.
Rihanna hasn't commented on the report.  If true, it represents another serious setback for the league, and a potentially growing issue with sponsors.  The Super Bowl remains one of the most lucrative advertising events on the planet, though a rebuff by a star of Rihanna's stature could dampen interest among brands.
Other brands are taking sides: just recently, Nike released a splashy ad campaign featuring Colin Kaepernick himself, a shrewd move that sparked controversy but likely elevated the brand.
The decision by Rihanna also represents a growing level of political action within the music industry, across all genres.  Just recently, Taylor Swift broke her notorious silence on political issues, and Rihanna isn't exactly a polarizing political figure.
As for the Super Bowl performance itself, Rihanna is likely missing out on a nice sale bump.  The NFL is notorious for paying little (if anything) for the event itself, though performing artists routinely experience sharp streaming and sales jumps after the gig.