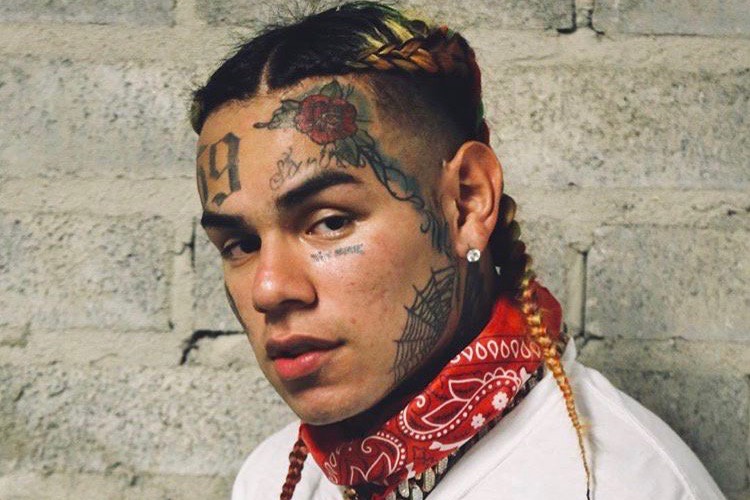 Rapper Tekashi 6ix9ine may be facing life in prison after his latest arrest.
The rapper was arrested Sunday night by federal agents on a number of different charges. Those charges include racketeering, weapons, and drug possession.
6ix9ine is no stranger to run-ins with the law.  He avoided serving jail time and had to register as a sex offender after pleading guilty in a sexual misconduct case back in 2015.  6ix9ine received a sentence of four years probation and 1,000 hours of community service in that case.
Other dust-ups with the law include choking a 16-year-old girl and assaulting a police officer, as well as multiple probation violations since 2015. Born Daniel Hernandez, 6ix9ine is involved with a street gang that has been indicted for distributing heroin, fentanyl, and MDMA.
Hernandez has been subject to heavy surveillance from the FBI, and has even denied protection from the agency.  Other agencies tracking the rapper include the Department of Homeland Security and New York Police Department.
6ix9ine's debut album Dummy Boy was slated to drop this Friday, but the release date may be up in the air after his latest arrest.
6ix9ine announced the release date for the album just hours before he was arrested. The tracklist features high-profile rappers like Nicki Minaj and Kanye West.  There's also an active tour, though dates are likely to be canceled.
6ix9ine's mixtape "Day69" paved the way from his SoundCloud days to becoming a rap star with hundreds of millions of Spotify plays.
If 6ix9ine is convicted of all the charges brought against him, he is facing up to 32 years in prison.  The possibility of a life sentence has also been tossed around, but that sounds extreme.  Prosecutors in the case have called the rapper a flight risk, but his lawyers offered up his passport and put him on house arrest with $750,000 paid to the court.
6ix9ine was denied bail because he could potentially commit crimes while at home.
Three of 6ix9ine's associates including Kifano Jordan (Shottie), Jensel Butler (Ish), and Faheem Walter (Crippy) were taken into custody as well.  One of his associates, Kifano Jordan, previously served as 6ix9ine's manager before he was fired from the role just weeks before his arrest.