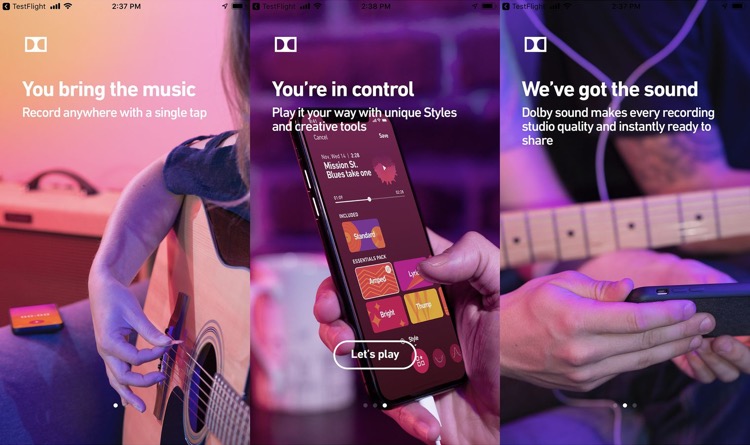 Dolby has quietly been testing a new mobile recording app.  But how good is it?
Artists have been recording on their iPhones for years.  But is it really possible to match studio-level recording quality from a smartphone?
Enter Dolby, which is now part of a slow technological tide that could push studios (and producers) to the fringe.  Dolby's app lets users record audio and cancels out background noise. The app also features several presets like "Amped," "Bright," and "Thump" to tune the audio.
The app, dubbed Dolby 234, promises to clean up the sound and alter the tone and space for recordings.  It may even start to encroach on studio-level results (though let's see how it ultimately stacks up).
"How can music recorded on a phone sound so good?" Dolby wrote on a (now-deleted) website.  "Dolby 234 automatically cleans up the sound, gives it tone and space, and finds the ideal loudness.
"It's like having your own producer in your phone."
Sounds like another lofty 'studio-quality' claim, though this isn't yet a finished product.
Still, some early functionality is known.  Tapping the record button in the app starts a tone measurement for a few seconds before beginning. Presets can be applied to the whole track after you are finished recording.
App tools also allow users to remove unwanted most annoying background noise, adjust bass and treble, and boost sound.
An in-app purchase called the Essentials pack comes with six more presets. Users can get a seven-day free trial for all six presets before purchasing the app.
Dolby 234 also features an option to share finished files to Dolby or directly to SoundCloud.
The app has since been taken offline, but several tech websites have offered their opinion on the quality of audio it produces.
The Verge noted that the mic level metering in the app didn't work properly. The app is a work-in-progress and shouldn't be taken as a finished product.
Right now there's no possible way to multi-track or adjust any of the parameters within the presets. While this app is aiming to be a pocket producer, it falls short of that goal without more robust controls.
If Dolby adds more ways to control preset parameters, similar to Prisma for photos, perhaps this on-the-go audio producing app might be workable for aspiring artists. Until then, it's a creative attempt at packaging professional tools for backyard artists.