The Recording Academy has gone into full damage control mode after a Twitter user uploaded the Grammy 2019 'winners' list.
Yesterday evening, Twitter exploded following the post of a single user.
The now-deleted account, everyday4you, claimed to have hacked the Grammys website.  Attaching a video, the user claimed to have seen "a deeper list of winners" from the site.
According to the now-deleted Twitter post, the winners included:
1. Song Of The Year: 'Shallow' — Lady Gaga, Mark Ronson, Anthony Rossomando & Andrew Wyatt. Songwriters Lady Gaga & Bradley Cooper.
2. Record Of The Year: 'I Like It' — Cardi B and Bad Bunny
3. Album Of The Year: H.E.R. — H.E.R.
4. Best New Artist: Chloe x Halle
5. Best Pop Solo: 'Colors' — Beck
6. Best Pop Duo: 'The Middle' — Zedd, Maren Morris, Grey
7. Best Pop Album: Reputation — Taylor Swift
— Main Pop Data (@mainpopdata) 29 de enero de 2019
In a statement, the Academy denied that the list actually existed.
"There is no legitimacy to this.  Grammy Awards results are not shared, even with Recording Academy staff members, until the day of the Grammy Awards ceremony, when names of the recipients are delivered by [accounting firm] Deloitte in sealed envelopes."
Seemingly confirming the hack, the Recording Academy has confirmed that it has reached out to its legal team.  The organization may take legal action against the Twitter user (or others).
Grammy 2019 winners will be announced at the Staples Center in Los Angeles on Sunday, February 10th.
The purported list angered fans on social media, who stated the Recording Academy may ultimately change its winners list.
"How do you accidentally leak the Grammy nominations on the official website?  A mess!"

"Pls if those leaks were ACTUALLY real and the Grammys are now throwing the list in the trash and scribbling a new one."

"I still have a gut feeling that Grammy leak was real.  They're just doing damage control."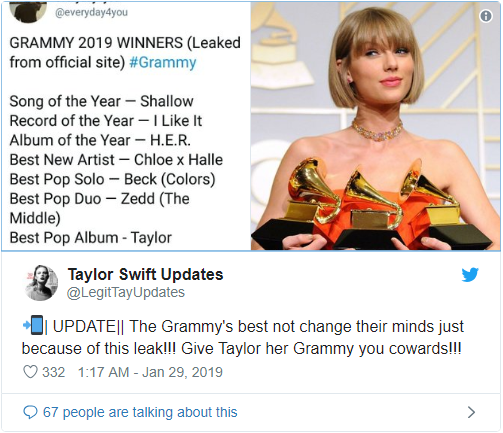 In case the above video doesn't work, you can view the actual 'leaked' Grammys video below.
---