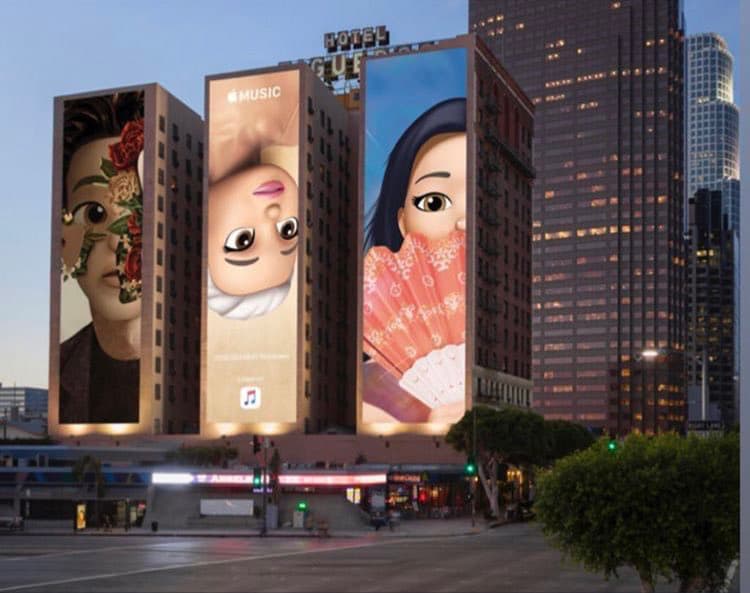 The Grammy Awards are happening this Sunday and Apple Music has spiced up Los Angeles with several giant billboards.
Apple Music is going gigantic ahead of this weekend's Grammys event.
The new billboards feature several Grammy-nominated artists as 'Animoji' characters.  Apple bowed the face-tracking Animoji (i.e., 'animated emoji') concept with its Messages app on the iPhone X.
Each billboard also features the title of the artist's work and the song or album for which they are nominated. A big Apple Music logo can be spotted on each, reminding viewers (of course) to listen to Apple Music.
Artist Kacey Musgraves posted two photos of the billboards on her Twitter account.
https://twitter.com/musgravesdaily/status/1092554710676951043
The images feature Musgraves, Ariana Grande, and Shawn Mendes chibi-fied into Apple's familiar Animoji forms.
It's interesting to see Ariana Grande's presence on the ad, though Apple may have been blindsided.  Earlier today, news erupted that the singer had abruptly pulled out of the show due to drama with the show's producers.  If true, one of the industry's biggest stars will be absent.
Apple has been pushing its music offerings harder in recent months with exclusive content and concerts for fans.  Plastering popular singers re-created as Apple-exclusive emojis is part of that ultra-aggressive marketing approach.
Apple's Animoji launched with the iPhone X, and the latest iOS 12.2 beta added four new characters.
iPhone users can now choose from a shark, owl, giraffe, and and warthog as their character representation. You can't choose any of these artists designs, however.
Of course, Apple is just one player building the energy ahead of the Grammy Awards.
Also making noise is The Soirée, now in its fifth year. The growing pre-Grammy bash is being thrown by Al Walser, himself a Grammy nominee who tapped Digital Music News to expand his well-attended shindig.  The ticketed Soirée event is happening at the Roxy on Sunset on Saturday, February 9th (more on the event here).