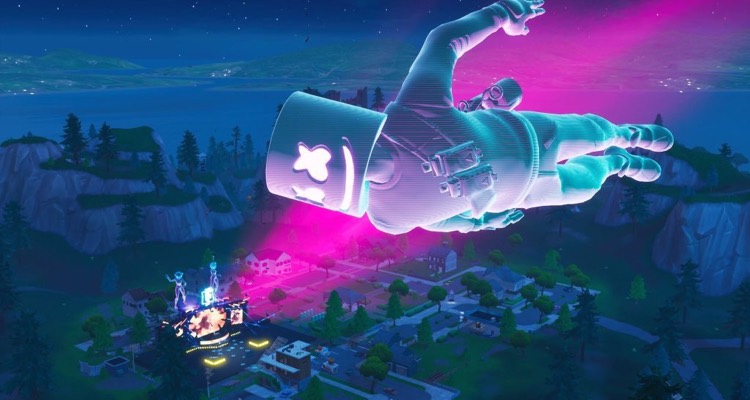 Fornite has become a pop culture phenomenon like no other game, so it's not a surprise to find celebrities like Drake playing alongside Ninja.
When Marshmello took the stage in a virtual performance last month, the content delivery method made sense for both Fortnite and the EDM artist.  It's a glimpse into the future of how concerts could become a global phenomenon for millions through virtual worlds.
Epic Games recently revealed that 10.7 million people attended the concert, making it the most-watched game event in Fornite.
The Marshmello concert in Pleasant Park smashes the previous record of 8.3 million players who watched a world-altering event in the game.
It's important to note that Epic's numbers are only for people who were live and connected through the game's client. It doesn't include live-stream viewers on Twitch, YouTube, or other video streaming services.
Marshmello uploaded a video of the Fortnite performance to YouTube on February 2, and since then the video has garnered nearly 30 million views.
Epic Games also revealed that the performance had a definite ripple effect on the game's popularity.
The concert's performance on February 2nd now holds the record for most players connected concurrently, but the following weekend saw a boost, too.
"This past weekend on Saturday, February 16th, the game saw its best non-event day ever with 7.6 million players in the game concurrently."
It will be interesting to see if the ripple effect of the concert will continue for the third weekend. Right now, Epic Games is prepping to launch Fortnite's eighth season, and gamers are beginning to notice massive fissures spreading across the game world.
Speculation abounds over what changes are ahead next season. However, with performance numbers like these, you can bet we'll see more virtual concerts in Fortnite's future.