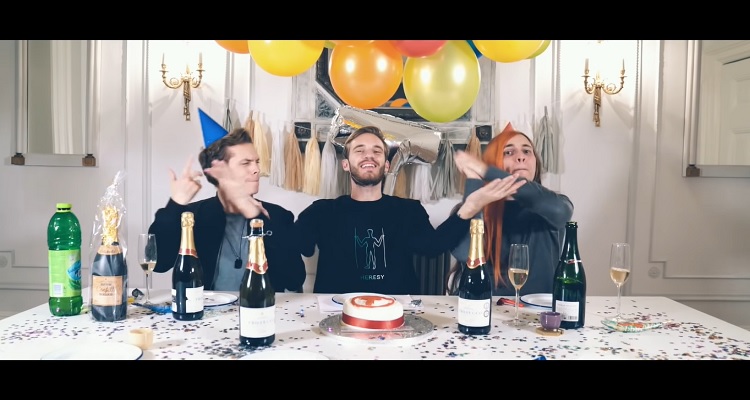 Just how safe is TuneCore?  Not so much if a troll can force the digital distributor into taking down a PewDiePie video.
For over a year, controversial YouTube personality Felix 'PewDiePie' Kjellberg has engaged in a bitter war with T-Series.
Both the YouTuber and the Indian label have battled for the most subscribers on the popular video platform.
For brief moments, and underscoring the power of music on YouTube, T-Series has claimed the top subscriber count from PewDiePie.
So, late last month, Kjellberg ceded the 'crown' to the Indian label.  Not before releasing a diss track against T-Series, however.
Now, the controversial YouTube star is in trouble once again.  This time, for allegedly stealing music.
Did PewDiePie rob an instrumental mix from another artist just to lambast T-Series?
In his song, 'Congratulations,' Kjellberg lobs several 'facts' about the Indian label, including racist insults.
"A congratulations to your corporation. / Guess to beat one Swedish boy, you need a billion Asians."
Revealing the company's history of first selling pirated Hindu songs, he continued,
"Now you're at number one, hope you did nothing wrong / Like starting your business by selling pirated songs

"Get used to your past being held against you by the media (Uh oh) / I'm sure right now there's nothing that you're doing that's illegal, yeah."
When FlareTV, another YouTube channel, live-streamed Kjellberg's song, it immediately received a red flag.
The teenage duo behind the channel wrote,
"Please stop asking about 'Congratulations.'  It's copyrighted and I cannot play it on stream."
When confronted about the track, PewDiePie editor 'Sive' Osman wrote that digital distributor TuneCore – labeled as just 'some company' – filed the copyright infringement takedown.
"Team YouTube — some company called TuneCore are claiming videos on or using PewDiePie's 'Congratulations' song.

"How are they getting away with this?  Sort this out as soon as [possible]."
Upon further investigation, TuneCore filed the takedown request for a reason.  Kjellberg had apparently stolen the instrumental version of another song – Pontus Pettersson's 'Buckwild.'
The takedown request comes amidst damaging allegations against the notorious YouTube star.
A Change.org petition, which renews claims of Kjellberg's white supremacist leanings, has called on the video platform to outright ban PewDiePie.
First started a few weeks ago, the petition has since received 78,000 signatures – over half of its goal.
Following the investigation, Kjellberg's team has remained notoriously quiet about the infringing claims.  In addition, YouTube has yet to respond to the allegations and the online petition.
Since then, TuneCore has issued a public apology against PewDiePie.  Revealing how a troll managed to make a fool of the digital distributor, the company explained,
"We are aware of the recent incident of a user claiming a PewDiePie song that he or she does not own the rights to. We have taken action against the customer who distributed this song and deactivated the account. Our team will monitor to make sure this does not happen again."
---
Featured image by Pewdiepie (YouTube screengrab).