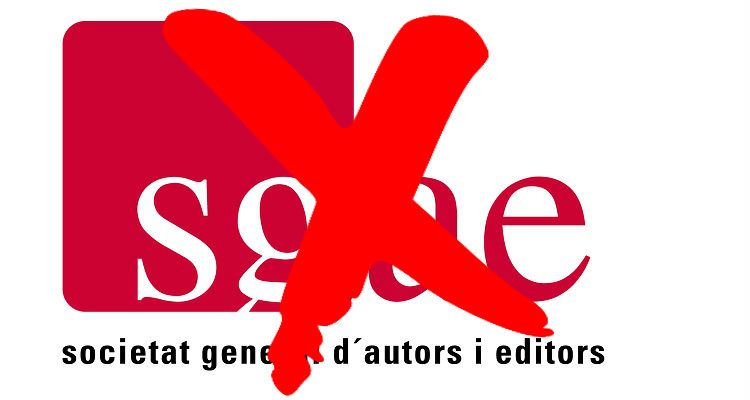 Things haven't exactly gone well for SGAE as of late.
Following years of corruption, embezzlement, poor management, and a flat-out refusal to change its business model, the Spanish collecting society received the boot last week from CISAC.
For one year, SGAE will no longer be a member of the International Confederation of Societies of Authors and Composers, a global coalition of collecting societies.
Highlighting the collecting society's worst scam two years ago, Spanish authorities discovered that SGAE had once again engaged in large-scale fraud.
This time, in a scam known as 'La Reuda' ('The Wheel'), TV executives would play songs late at night, listing SGAE-designated names as publisher, writer, and composer.  When it came time to collect, TV executives and SGAE members would split the royalties amongst themselves.
Police subsequently raided the collecting society's headquarters once again, arresting eighteen executives.  Authorities had previously raided SGAE in 2011.
Now, the Spanish collecting society will have to pay the price for refusing to change its ways.
You can't teach an old dog new tricks, but you can fine it over $3 million.
Last month, and in a move praised by Spanish promoters' association APM, the Supreme Court in Spain approved a €3.1 million ($3.5 million at the historic exchange rate) fine against SGAE.  The CNMC, a local competition watchdog, had first proposed the fine in 2014 over the collecting society's "abusive" 10% concert fees.
Now, after finding SGAE has engaged in "single and continued infringement" of free competition and existing European Union law, the CNMC has once again fined the collecting society.  This time, SGAE will have to pay €2.95 million ($3.3 million).
The Spanish competition watchdog levied the fine after finding the collecting society willfully imposed strict contractual conditions on its members.  Members, for example, can't revoke or even partially withdraw the management of their rights to another organization.
The CNMC claimed the collecting society "has created obstacles to the free management of rights and the development of management entities other than the SGAE, making competition difficult."
In addition, the collecting society has also abused its position regarding broadcast rights.  SGAE bundles musical and audiovisual rights together, refusing to provide itemized price breakdowns for its members.  This prevents artists from determining the actual costs for the use of their works.  So, they can't compare SGAE charges with those from its competitors.
The investigation came after Unison and Dama, a collecting society and an audiovisual authors' rights group, respectively, filed complaints about SGAE's behavior.
Praising the fine, Jordi Puy, Unison's Chief Executive, said,
"At Unison, we celebrate the decision of the Spanish regulator, which helps to guarantee free competition in the market of music rights management."
So far, SGAE has yet to issue a comment about its abusive, anti-competitive behavior.
---
Unedited featured image by SGAE.