Whether you are an athlete putting in some serious training, or a casual runner, you might agree with me that distractions can affect your performance.
The following guest post comes from xFyro, a proud partner of Digital Music News.
As a runner, finding wireless Bluetooth earbuds that can minimize distractions is as important as your moisture-wicking apparel and a good pair of running shoes.  Out of the tons of wireless earbuds for running available on the market, it is essential that you find the best Bluetooth earbuds that won't fall out while you are running or moving.
Recently, I have been trialing some earbuds, and I came across true wireless Bluetooth earbuds for running that can soundtrack your path to fitness and good performance no matter your activities of choice.  The xFyro xS2 wireless earbuds offer a fit and convenience that can stand up to movement.  Take a ride with me to find out more about this best Bluetooth earbuds!
Built and Designed For Do-Anything and Go-Anywhere Performance
The xFyro earbuds are designed and built to meet all needs.  They come in three different colors, and unlike many of the wireless Bluetooth earbuds built with inferior materials, this product has its shell constructed out of aluminum alloy. This makes it more durable than most wireless earbuds.
With this type of construction material, the xFyro is rugged and durable.  It means it can survive no matter what you put it through.  Whether it drops, you sit on the Bluetooth earbuds or mistakenly step on them, you will pick them up, use them, and it won't feel like they have gone through a bad time.
Not only that, this pair of wireless Bluetooth earbuds for running features IP67 certified dust-proof and waterproof technology.  Do you know what this means?  It means you don't have to worry about sweat damaging your wireless earbuds no matter how head-wrenching the workout is.
The additional advantage of the xFyro earbuds is that you can use them while you shower to clean up after running.  You can also run in the rain while having the best Bluetooth earbuds plugged into your ears.
There is one feature that complements the waterproof features so the xFyro can stay fit in your ears no matter the condition.  What do you think that is?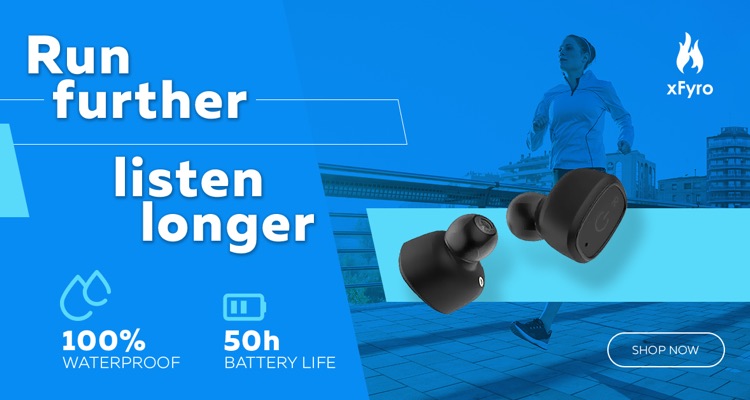 Ear Tips Stay Glued To Your Hears Even During the Sweatiest Workouts
I have heard and read many reviews of earbud users complaining about their wireless earbuds falling out after taking a few steps and even at the slightest drop of sweat.  As for the xFyro earbuds, they are one of the few earbuds that have few numbers of users having the same complaint.
Most of their customers and users are pleased with the fact that the best Bluetooth earbuds remain in their ears while moving, running, and sweating.  This doesn't just happen.  The xFyro earbuds feature an interchangeable silicone ear tips that are secure, comfortable, and grips well in the ear canal.  No matter your ear size, you will find a pair of ear tips that works for you.
Technology That Minimizes Distraction to the Bare Minimum
When you have the best wireless earbuds such as xFyro earbuds with noise isolation and suppression, you will be able to focus more on your running and be in the zone completely.  Additionally, it will also help you outside the world of running and working out.  You will be able to enjoy your music even if you are in a crowded place or a noisy environment or surrounded by irritating sounds. Also, the noise suppression with the in-built microphone will allow you to make calls without interference and receive calls in peace.
Sound Quality: Ideal and Crisp
The xFyro thought outside the box, so they came up with the xS2 earbuds that offer superior HD sound. This allows users to use the wireless earbuds no matter their lifestyle, whether running, listening to music, watching a movie, traveling, in the office, or more.
The wireless Bluetooth earbuds for running come with excellent highs and rich lows. With this, you can get the perfect sound for your ears that keep pushing you forward even if your legs beg for rest when running.
High-Speed Charging Case That Allows the Wireless Earbuds and Other Devices to Keep Up with You
While checking the market for the best Bluetooth earbuds available, I found out that many wireless earbuds come with a charging case. But the question is, how many hours of charge do they offer? Maybe 10-hours to 15-hours of extra charge. As for the xFyro earbuds, they go the extra mile to feature a case that provides the earbuds with up to 50-hours of extra charge before having to recharge the case.
The eight hours of talk time that the wireless earbud's battery offers ensures that you continue to have a blast no matter how long the workout or training session takes.  Additionally, the charging case of the xFyro xS2 earbuds can work as a power bank that allows you to charge other devices such as your mobile phone, tablet, and more.  This is a standout feature that can be difficult to find in other best wireless Bluetooth earbuds for running.
Furthermore, there are times that when I am running with my earbuds, and the music I am playing will be breaking intermittently.  Most people have been in my shoes, I guess.  The situation is different with xFyro, however.  These wireless earbuds with a mic come with highly-advanced CSR Bluetooth 5.0 technology.  With this type of Bluetooth technology best Bluetooth earbuds will connect seamlessly and faster with your devices.
Not only that, the cutting edge Bluetooth in your wireless earbuds for running will cover a wide range and utilize low power, thereby ensuring a longer battery life.  Additionally, this feature ensures a better digital life, large message capacity, better security control, and more.
Final Words
You can't beat these earbuds for looks, performance, and fit. They are made with all these activities in mind, which is why they are often known to be versatile wireless earbuds. With the efficacious features of the xFyro earbuds such as its portability, lightweight, waterproof, and interchangeable eartips that fit and grip the ears perfectly, you are assured of true wireless earbuds for running that won't fall out.
I hope I have been able to provide you with an in-depth insight into the xFyro xS2 wireless earbuds, which is the best Bluetooth earbuds you can get as a runner.