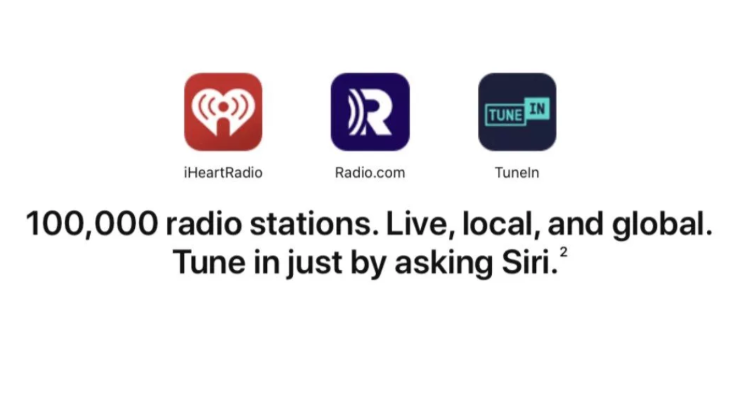 Apple has added support for over 100,000 live radio stations through its integration with TuneIn and iHeartRadio.
Siri users on iPhone, iPad, and HomePod devices can now access these radio stations.
Apple first announced the upcoming integration at WWDC earlier this year. The live radio stations were billed as a fall iOS 13 feature, but support for Siri live radio currently works on the HomePod.  iPhones and iPads running the iOS 13 beta build also have access to live radio.
Apple's goal is to offer hyper-local radio and a selection of great top stations for HomePod. One user reports that many German stations are available, suggesting that this may be a global rollout. Asking Siri to play a particular station will prompt her to return the service providing the station.
For example, "play radio station BBC Radio One" prompts Siri to say "playing BBC Radio One, provided by TuneIn."
Early beta testers note that Siri is pretty finicky with the language needed to activate the feature. Without an ask phrase featuring the word 'radio station,' Siri defaults to Apple Music searches. Presumably, the limited iOS 13 beta is helping Apple test Siri's natural language recognition for radio station selection.
Radio playback is controllable using the Apple Music app. You can also search for stations by name in the Apple Music search tab. Stations appear in Apple Music's Recently Played list, allowing them to be accessed quickly.
Among the features Apple is planning to launch this fall are several upgrades for the HomePod.
One of those is an easier music handoff between the iPhone and HomePod unit.  HomePod will also offer voice support for multiple users. Each user will receive contextually relevant music recommendations. HomePod can detect up to six different voice profiles when the update launches this fall.
Apple is still well behind Google and Amazon when it comes to natural language processing.  Google's assistant feels the most natural at handling requests, but that's an area Apple has been working to improve.