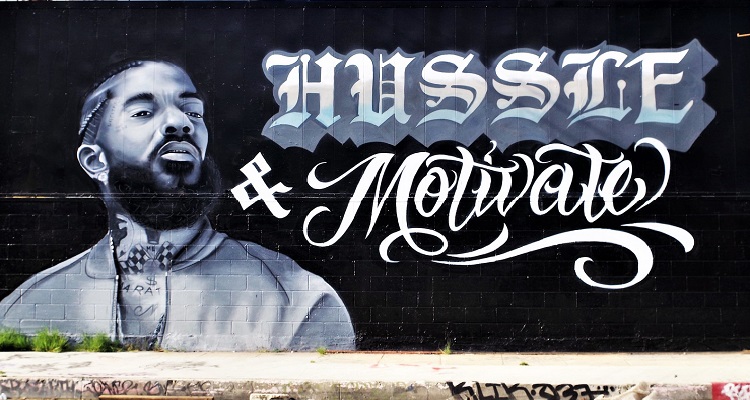 Lauren London has announced the construction of a Nipsey Hussle Memorial Tower.
Nipsey's girlfriend, Lauren London,
took to Instagram
to announce that fencing would be placed in front of the memorial tower's worksite, 3420 W. Slauson Ave., so that construction could begin. While the work is underway, Nipsey's clothing store, The Marathon Clothing, will remain closed; the brand's brick-and-mortar location hasn't opened since Nipsey tragically passed away on March 31st.
However, fans can still place orders through The Marathon Clothing's website, which has garnered more than $10 million in sales since Nipsey's passing.
An estimated date of completion for the Nipsey Hussle Memorial Tower wasn't provided, but more information will likely be made available in the coming weeks and months.
Nipsey Hussle, whose real name was Ermias Joseph Asghedom, seemed to have everything going for him — his music was commercially successful and critically acclaimed, his acting career was developing, his entrepreneurial efforts, including the mentioned clothing brand, were doing excellent business, and his first child, born in 2016, was quickly growing up.
On March 31st, the Los Angeles native was shot and killed in the parking lot of The Marathon Clothing.
Eric Holder was identified as a suspect and subsequently arrested, and as his trial hasn't yet started, his motive for committing such a heinous crime is unknown.  However, police have indicated that the attack was premeditated and that Holder and Nipsey Hussle had known each another beforehand.
Though this memorial tower is the highest-profile and most-permanent dedication to Nipsey, it's hardly the first dedication to Nipsey.  Countless celebrities offered condolences and prayers via social media, and a letter from Barack Obama was recited at Nipsey's funeral.  Numerous Nipsey-dedicated murals have appeared in LA, and an intersection near The Marathon Clothing's physical store was named after Nipsey, whose supporters helped the process by creating a petition.
It's unclear when The Marathon Clothing's storefront will reopen, but it seems likely that customers will be welcomed back once the Nipsey Hussle Memorial Tower's construction has finished.