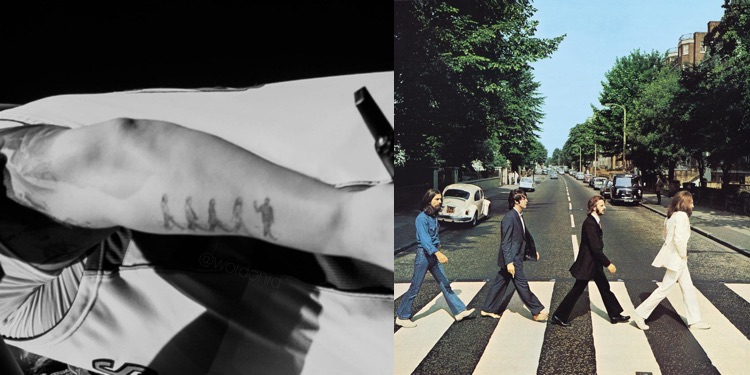 Drake has just declared himself bigger than The Beatles — with a diss tattoo.
"I got more slaps than the Beatles"…
These were the words Drake rapped last year on a track by Meek Mill called "Going Bad." Not only have they become true, but the Canadian rap superstar has not been shy in letting the world know it.
Recently, Drake achieved a significant accomplishment: a song of his broke into the top 10 of Billboard's Hot 100 for the 35th time, surpassing a number that had been reached 50 years ago by the Beatles.  To celebrate this, he got himself a tattoo that even some of his fans think was over-the-top.
The new tattoo is on Drake's left forearm, and it recreates the iconic cover image of the Fab Four's "Abbey Road" album with one big exception: in place of John Lennon walking in front, Drake is now assuming the leadership role.
Interestingly, Drake has not discussed this new tattoo on any of his social media accounts, nor has he displayed it there. Instead, everyone has learned of the tattoo from photos other people have taken and posted to their own accounts.
So far, reaction to the tattoo has been far from positive, even from the star's fans.
One of these people insisted that they loved Drake but that the tattoo was not only tacky but cocky as well. Another fan went a step further and criticized all of Drake's tattoos, which include depictions of other music stars, such as Sade, Lil Wayne and Aaliyah. This fan said, "Drake tats are like a college student's laptop with stickers all over."
The song that took Drake past the Beatles features Rick Ross and is called "Money in the Grave," and it broke into the Top 10 this past June. The 35 Top 10 songs leaves Drake behind only Madonna, who has accomplished the feat an incredible 38 times.
Drake fans can only wonder what kind of tattoo he will get if he one day surpasses her.
Another protest worth noting: the rules for getting into Billboard's Hot 100 are entirely different in the 2010s than they were in the 1960s.
And of course, so are the formats and promotional platforms, with streaming nonexistent in The Beatles' heyday.  Then again, The Beatles didn't struggle against an oversaturated media environment, and in that light, arguably enjoyed far more benefits than the cocksure Drake.