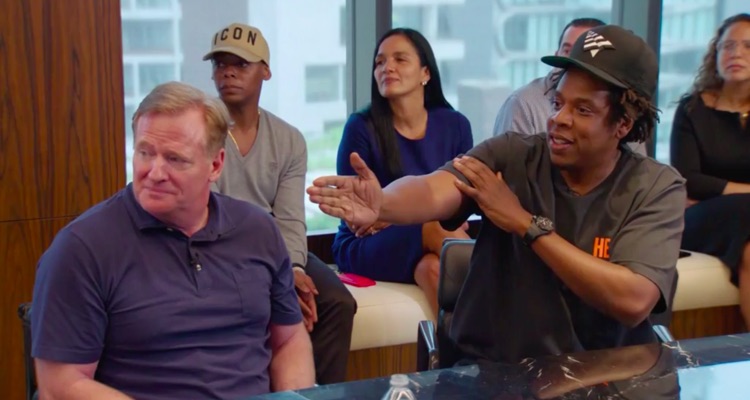 Among others, Jay-Z is getting blasted by Colin Kaepernick's girlfriend for partnering with the league.
And that's just after the first day.
Indeed, the NFL's recent announcement of a partnership with Jay-Z's Roc Nation has stirred quite a bit of controversy.  First, conservative personality Tomi Lahren criticized the deal, and now criticism is coming from the other direction.  Strongest among these voices has been Nessa Diab, who is not only a TV and radio personality but also Colin Kaepernick's girlfriend.
Diab posted a heated comment about the partnership on Instagram after TMZ published an audio recording of a meeting between the NFL, Jay-Z, and members of the media. She called the partnership between the NFL and Roc Nation "disgusting and disappointing" while asking how the two could mention working for social justice when the league, in her opinion, is keeping her boyfriend out of the league because of his work fighting for social justice.
She was referring to the fact that former quarterback Colin Kaepernick has been unable to find work in the NFL since leading controversial protests, in which he kneeled during the playing of the national anthem prior to each game he played. Kaepernick insisted that he was kneeling to protest a number of noted police brutality incidents across the country, but many saw the protests as unpatriotic and anti-American.
While Kaepernick's football skills had been deteriorating after once being considered one of the best quarterbacks in the league, many have noted that there are far worse quarterbacks than Kaepernick that currently have a job.
In the media event featuring Jay-Z and NFL Commissioner Roger Goodell, Jay-Z was asked if he would kneel as a player.  The rapper declined to directly answer, while stating, "I think we need to get past kneeling. I think it's time to get into actionable items."
"I think everyone knows what the issue is — we're done with that," Jay-Z. "What are we moving on next? To be clear, I'm not minimizing that part of it, because it's a necessary part of the process. But now that we all know what's going on, what are we going to do?"
Cornerback Eric Reid, who also had difficulty getting a job after he joined Kaepernick in the kneeling protests, criticized the deal, too.  He called Jay-Z "disingenuous" for partnering with the NFL.  More seriously, Reid further accused the rap mogul of taking millions of dollars to help the league bury Kaepernick's career.
In defense of his partnership with the NFL, Jay-Z reiterated that he's past the kneeling controversy and on to bigger things, such as reaching millions of people with his message.