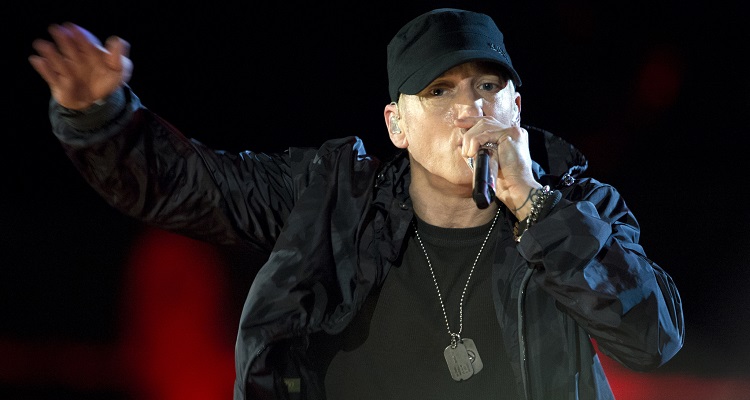 Eminem publisher Eight Mile Style has filed a massive copyright infringement lawsuit against Spotify — and questioned the legality of the entire Music Modernization Act in the process.
The massive lawsuit, filed Wednesday (August 21st) in the U.S. District Court in Nashville, alleges that Spotify grossly infringed upon hundreds of works by Eminem.  Those include classics like "Stan," "Lose Yourself," "Without Me," "The Real Slim Shady," and "My Name Is," among many others.
In terms of damages, Spotify could be held directly liable for infringing 243 different works, at $150,000 a pop.  But the suit also claims a piece of Spotify's profits as a result of such infringement, with billions in Wall Street-pumped valuation potentially counted as damages.  The complaint specifically calls for comprehensive damages that go beyond statutory infringement penalties, with "advertising revenue and the value of the equity interest Eight Mile was deprived of by virtue of the infringement."
Spotify is currently worth about $26.2 billion.  All of which brings the theoretical damages incurred in this case into the billions, depending on how a judge and jury read this one.
Digital Music News was quickly tipped of the suit by Eight Mile's lead litigator Richard Busch, a longtime critic of Spotify's payouts (or lack thereof) to publishers and songwriters.  Busch notes that Spotify is not only failing to pay Eight Mile, but they're not even accounting properly for billions of plays.
"Spotify has not accounted to Eight Mile or paid Eight Mile for these streams but instead remitted random payments of some sort, which only purport to account for a fraction of those streams," the complaint alleges.
Beyond those infringements, the suit also finds that Spotify flouted the recently-passed Music Modernization Act, while questioning the Constitutionality of the law itself.
Specifically, the MMA prohibits any copyright infringement action against Spotify after January 1st, 2018, a strange rule that has likely cooled other lawsuits.
"The MMA's retroactive elimination of the right of a plaintiff to receive profits attributable to infringement, statutory damages, and attorneys' fees, is an unconstitutional denial of due process (both procedural and substantive), and an unconstitutional taking of vested property rights," the filing states.
Incidentally, Busch was raising red flags about the MMA prior to its passage into law, with the litigation prevention clause just one area of concern.  Busch, who previously represented Bluewater Services and songwriter Bob Gaudio in a similar action against Spotify, is now stepping up his MMA protests with a formal legal complaint.
In terms of Spotify's alleged non-payments, Eight Mile has pointed to some seriously negligent royalty accounting.  For example, the complaint notes that Eminem's "Lose Yourself" was placed into a "Copyright Control" bucket by the streaming giant, a category reserved for works that cannot be easily matched.
The only problem with that, of course, is that "Lose Yourself" is one of the most memorable songs of the 2000s, and Eminem's popularity on Spotify is on par with Bruno Mars, Coldplay and Taylor Swift.  So how could they possibly not find the rightful owners and pay them?
Unfortunately, playing dumb is patently illegal under the MMA.  Eight Mile states that Spotify simply "did not engage in the required commercially reasonable efforts to match sound recordings with the Eight Mile Compositions as required by the MMA."
The full complaint can be found here.