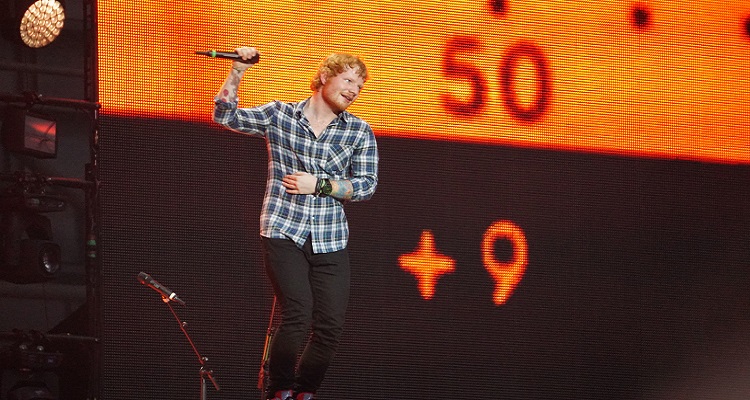 It's both the best of time and the worst of times for singer-songwriter Ed Sheeran.
The British pop star recently announced that he would be taking an 18-month hiatus after a record-setting two-year world tour that has left him a reported net worth of $175 million. But, at the same time, Sheeran is facing yet another copyright infringement case.
The latest is blocking him from receiving royalties from his hit song "Shape of You."  Currently, the song has more than 4.3 billion views on YouTube.
Musician Sam Chokri is claiming that Sheeran lifted the chorus of "Shape of You" from his song "Oh Why," which was released in 2015.  Chokri says that he sent Sheeran's team the song as a means of potentially collaborating with Sheeran. Sheeran denies the claim and says that Choki is not only blocking him from revenue that is rightfully his, but damaging his reputation, too.
"Shape of You" was the best selling song in the United Kingdom during 2017.  But Sheeran will not receive any more money from it until the court decides this case, which won't happen until at least 2020.
This is not the first time Ed Sheeran has gotten into trouble because of alleged copyright infringement.
The estate of Ed Townsend, who wrote Marvin Gaye's "Let's Get It On," is suing Sheeran, too.  Townsend claims that Sheeran used "major harmonic progressions and rhythmic elements" from "Let's Get It On" in Sheeran's hit song "Thinking Out Loud," which was released in 2014.
Chokri further claims that Sheeran has stolen music from both Shaggy and TLC.  He says that Shaggy is now credited in Liam Payne's song "Strip That Down," which was originally credited only to Payne and Sheeran, because the song copied part of the melody from Shaggy's "It Wasn't Me."
Ed Sheeran has sold more than 150 million records worldwide, and he has won more than 100 awards, including 4 Grammys.  His recently completely "÷ Tour" was attended by more than 8 million people and grossed nearly $750 million.