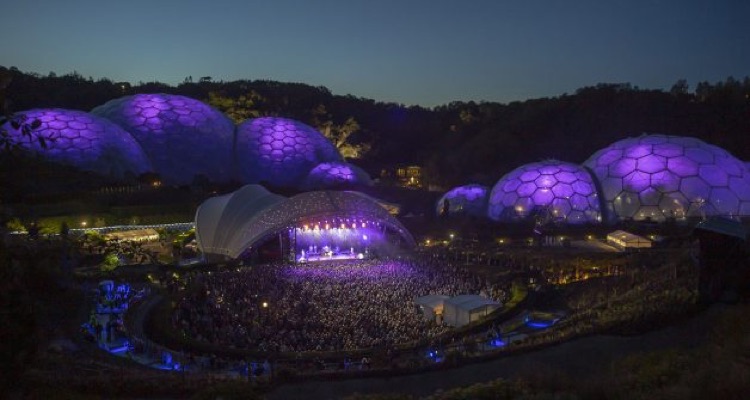 AEG Presents and Eden Project have partnered to hold future series of Eden Sessions concerts.
The JV entity, Eden Sessions, LTD, which will facilitate the shows. Though the performances typically take place in summer, it's been reported that Eden Sessions is already working to recruit acts for 2020's gigs.
Eden Project is a popular tourist attraction in Cornwall, England. It consists predominantly of two adjoining biomes —large, clear structures that house several rare plants and flowers that are unable to grow in England's natural climate.
Other biomes, gardens, and natural landscapes are featured throughout Eden Project, which donates a portion of its profits to environmental causes and provides educational resources to local students.  That could help AEG to further downplay a number of controversial political contributions from AEG owner Philip Anschutz, including those supporting anti-LGBTQ, anti-environmental, and anti-marijuana causes and candidates.
The first Eden Sessions took place in 2002, and new artists have performed at Eden Project during each subsequent year.
Bjork, Queens of the Stone Age, Elton John, Blink-182, and many other well-known bands and artists have headlined shows at Eden Project. This year's Eden Sessions took place between June 20th and July 3rd; Kylie Minogue, Stereophonics, CHIC, and Nile Rodgers headlined the concerts.
AEG (Anschutz Entertainment Group) is the second-largest concert company in the world, behind Live Nation. In terms of major venue holdings, AEG owns LA's Staples Center and London's 02 Arena, among others.
Additionally, AEG promotes the annual Coachella Music Festival, which is owned by AEG's parent company, The Anschutz Corporation.  Incidentally, marijuana remains banned at Coachella, though beyond the inconvenience, attendees don't seem bothered by Philip Anschutz's politics.
Though music fans will have to wait until next year to see what the AEG-Eden Project partnership brings in terms of music and production value, there're still plenty of activities being offered in the final months of 2019, including the Eden Arts Festival.