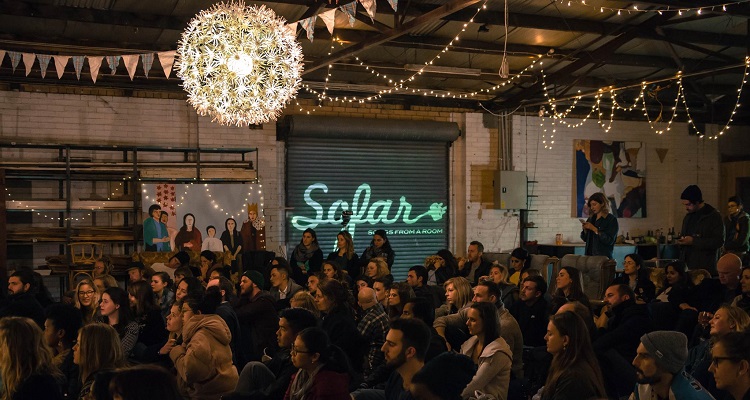 Sofar Sounds has announced it will begin hiring paid part-time crew members to work its concerts.
The organization has been under fire from artists and critics who say it relies too heavily on its unpaid volunteer workforce. CEO Jim Lucchese made the announcement, saying the paid members will augment its volunteer team.
The New York State Department of Labor is currently investigating Sofar Sounds for its use of unpaid labor.  For-profit companies cannot use unpaid volunteers, except in one-off events. But Sofar Sounds specializes in offering one-off events — prompting the investigation into exploitative labor practices.
A recent report, called the 'Talkhouse report' by musician John Colpitts, revealed how Sofar Sounds works. The piece describes how everyone who works for the company loves it, but musicians and DIY organizers have a less than stellar opinion.
Sofar Sounds recently received $25 million in venture capital funding from Union Square Ventures and Virgin Group. The company was set up as an alternative to noisy pub settings. The idea is to to provide intimate concerts in homes, apartments, and other non-traditional venues.  Attendees are asked to focus on the performance of a virtually unknown artist.
The service is appealing to music fans because the artist line-up isn't revealed ahead of time.
Fans in the US, UK, Canada, and Spain can purchase tickets in select cities for around $10-$25. A day or two before the concert, the address for the event is revealed. According to the Talkhouse report, the average paid ticket count is 58 and the average price is $19.
"Artists are paid $100 per concert and are sometimes offered the option of a professionally produced Sofar branded video as a substitute for cash."
That doesn't add up. Many artists we spoke with said they were told to expect a 100-plus capacity, with ticket prices around $12.66 per ticket. CEO Jimn Lucchese has defended the practice, saying "$100 for a showcase slot is definitely fair."
Now Lucchese says the paid Sofar Crew is "a way to make sure that as Sofar continues to grow, we can support that growth." Paid staffers won't replace the Sofar volunteer ambassadors that the service relies on, however.  Instead, they'll be manning the merch tables and driving social media sign-ups.
It's unclear if the move to hire paid crew members will have any impact on the New York State investigation.