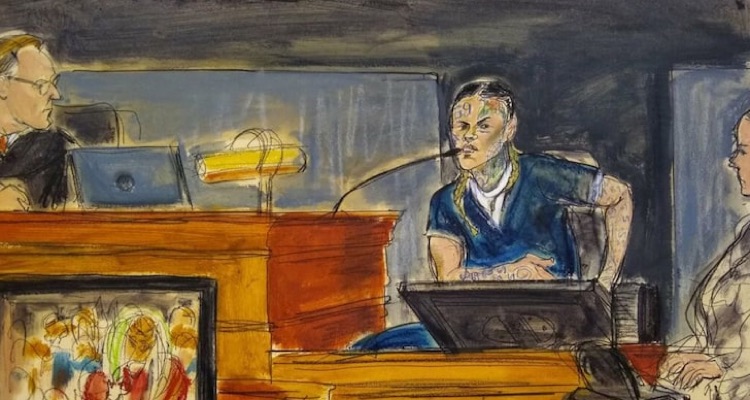 In his third day of federal court questioning, Tekashi 6ix9ine gave explosive testimony in the trial of two of his former associates.
He not only accused fellow rapper Jim Jones of being a member of Nine Trey Gangsta Bloods, but he even more explosively accused Cardi B of also being a member of the Bloods, which Cardi B has subsequently confirmed.
Tekashi, to avoid prosecution, is testifying in the trial of Aljermiah "Nuke" Mac and Anthony "Harv" Ellison. During his testimony, a prosecutor asked the rapper who Jim Jones was. Tekashi answered that Jones was both a "retired rapper" and a member of Nine Trey Gangsta Bloods.
Reportedly, Tekashi 6ix9ine and Jim Jones had a personal relationship prior to Tekashi's arrest.  Numerous photos of two together at various venues confirm the relationship.  However, this relationship has clearly soured. In June, after Tekashi's arrest, Jones did an interview on a Los Angeles radio show and called Tekashi a rat and said that, because of this, his name was 'unmentionable'.
He went on to say that "If you a rat, then you're a rat forever."
So far, Jones has not commented about the accusation that he is a member of Nine Trey Gangsta Bloods. But Cardi B (and her representatives) quickly responded when Tekashi, later in his testimony, accused her of being a member of the Bloods.
The accusation came after Mack's defense attorney asked Tekashi if he was deliberately copying Cardi B by using gang members in his music projects.  Tekashi denied this, but then mentioned Cardi B's gang membership.
Within hours of the reporting of this, Cardi B's representative firmly denied that she is a member of the Bloods, by saying, "This is not true."
However, less than two hours later, Cardi B in a tweet contradicted her own representative by confirming that she is indeed a member of the Bloods.  But she insisted that she has never been associated with Nine Trey Gangsta Bloods.