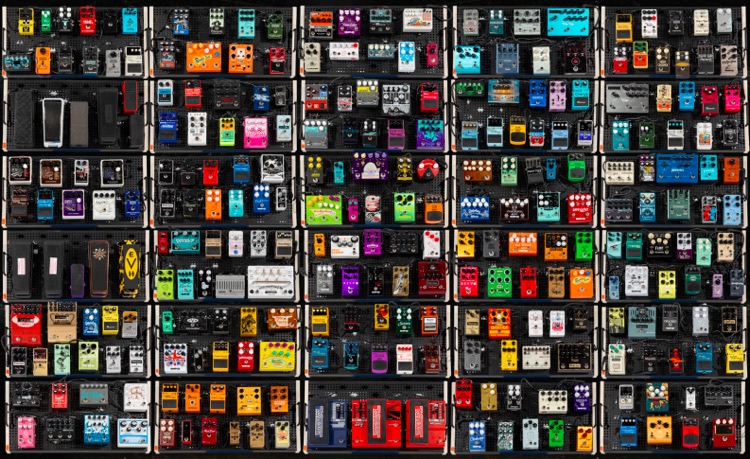 Yes, there's a Guinness World Record for the largest guitar effects pedalboard ever constructed.  These are the guys that put it together.
What?  You're not subscribed to the Digital Music News Podcast?  We're available on iTunes, Spotify, Google Play, Stitcher, and pretty much everywhere else.  Or, simply listen to the embed below.
The holders of this coveted record are Rob Scallon and Sweetwater Sound, with ample help from a variety of pedal experts.  The cast of power-nerds threading it all together included Robert Keeley (Keeley Electronics), Brian Wampler (Wampler Pedals), Ryan Dyck (Temple Audio), and Josh Scott (JHS Pedals), along with a cast of audio-tech experts from Sweetwater.
In total, the functioning mega-board included 319 pedals on 34 dedicated pedalboards, featuring more than 500 feet of cable and the products of 34 different pedal manufacturers. The feat was officially recorded by Guinness on July 9th at Sweetwater's Clyde Theatre, located in Fort Wayne, Indiana — and Sweetwater joined forces with DMN to help showcase the accomplishment.
In this week's Digital Music Podcast, I interviewed Keeley, Wampler, Dyck, and Sweetwater's 
Nick Bowcott
, who also happens to have played in mid-80s cult band Grim Reaper.
I was hoping for some juicy, last-minute emergencies involving electrical blow-outs and defective pedals. Unfortunately, everything went virtually without a glitch. "It was like watching a well-disciplined workforce having a blast and having a lot of fun doing it at the same time," Bowcott said.
"I really enjoyed the conversations that were had, and the information-sharing was fascinating.  You'd figure that some of these guys might have secrets that they don't want to share, but it's the exact opposite —  they're open books with their alleged competitors, because they're brothers-in-arms, or brothers-in-pedals."
"The fact the damn thing worked was incredible."
I marveled at the 'reverse Murphy's Law': somehow, with hundreds of pedals, cables, switches, and a million things that could go wrong, virtual nothing did. "It's when you have 300,000 people in the crowd and one pedal that everything goes wrong," I realized.
The impetus for the project was guitarist, multi-instrumentalist and YouTube celeb Rob Scallon, who was sick of choosing pedals.
I asked if the world's largest guitar pedalboard was a reaction to the extreme option-overload that instrumentalists juggle today. None had any negative reaction to the surge of possibilities, however.
"It is the best time," said Robert Keeley. "Imagine if there was only an Orange Phase 90 — woohoo, Orange Phase 90 it is. But now, there are zillions of step flanges and step phasers, and ones that play in reverse and ones that will memorize this or copy this, or 28 stages of phasing — it's a great time to be a pedal builder."
"Pedals are just like paint," Keeley continued. "There's no right color, there's no right tube screamer. There are a lot of different paint colors, I don't consider it pedal overload; I think there are that many colors because artists need that many colors."
"It's like paint on a canvas," said Brian Wampler of Wampler Pedals.  "There are a million different shades of blue, and sometimes you just need that specific color for that picture of the sea.  It helps to have a bunch of different colors to choose from."
Here's my discussion with some of the most preeminent guitar pedal makers in the world.