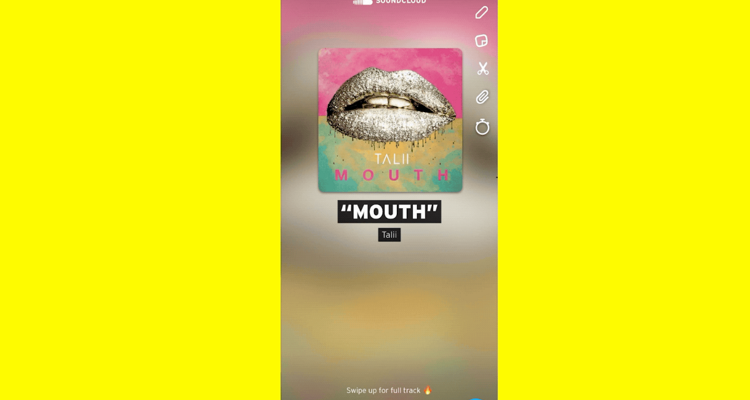 SoundCloud is partnering with Snapchat to make it easier to share tracks, albums, playlists, and profiles to Snaps. 
SoundCloud is taking advantage of the newly announced Snap Kit Creative Kit to allow creators to share music. The idea is to turn Snapchat into an accessible destination to discover new music and for artists to promote their latest tracks. It's a new way to promote music and opens a new social media channel to SoundCloud artists. 
SoundCloud says the Snapchat integration will roll out later this year.
It's part of an expanding set of tools SoundCloud offers creators to build their presence both on and off the platform. SoundCloud's partnership is just a small blip on the radar of features Snapchat announced today. 
Snapchat also introduced a new navigation bar, introducing contextual actions based on what the user is doing. Snap Minis will also allow developers to bring HTML5 experiences into the app on iOS and Android. Minis are an interesting approach to let music fans to communicate.
At the next Coachella, a Coachella Snapchat Mini will enable attendees to plan festival line-up among friends. Here's a quick peek at some of the other Snap Minis launching in 2020. 
Let's Do It (Snap Inc.) 

–

 

When you and your friends need to make a decision as a group, Let's Do It helps pick your next move.

Movie Tickets by Atom

– Choose a show time at a local theater, select the best seats together, and individually pay for tickets to see the show. Stream the latest movie trailers and share them with friends.

Prediction Master – 

From Mammoth Media, Prediction Master serves timely questions on everything from the Stock Market to sneaker drops, so Snapchatters can see which of their friends is the true psychic.
The Snap Camera Kit is also introducing new AR capabilities and camera engagement for the app. Lenses built using Lens Studio integrate with several popular apps. Triller's Camera Kit integration allows the community to interact with Lenses inspired by artists and songs. 
The move appears to be one to make Snapchat more appealing to indie artists. It also supports communication at large-scale events like Coachella. Snapchat says there are now over 800 apps like SoundCloud utilizing its Snap Kit developer platform.