Spotify is great when you want to generate a playlist for your new exercise routine. But when Spotify keeps crashing on your smartphone, it sucks. Here's how to fix it.
Spotify is nearing 300 million users around the globe. Slight hiccups in service can be a result of several things. So let's walk through some troubleshooting steps if your Spotify app keeps crashing.
(1) Log Out and Restart
Both iOS and Android have memory-saving and battery optimization going on in the background. Sometimes these 'features' can cause problems with an app that requires a continuous connection.
If Spotify keeps crashing, logout, completely close the app and then log in again. It's such a simple step, but it can often resolve any problems you may have. Here are the instructions for completely closing Spotify on various devices.
iOS: iPhone X users can swipe up from the lower part of their screen to see recent applications. iPhone 8 and earlier devices can double tap and the home button. Swipe the Spotify app away to close it, then log in again.
Android: Tap the three lines at the bottom of your screen to open your recent applications menu. Tap 'close all' or swipe Spotify up to only close that app. Restart the app and log in.
Desktop: Click the 'x' at the top of the Spotify window. On Windows, make sure Spotify is not minimized to the system tray by clicking the up arrow on your taskbar. If the Spotify icon is there, right-click and select 'close.'
(2) Switch Internet Connection
Free users must maintain a connection to the internet at all times to enjoy Spotify. If Spotify keeps crashing, it could be because the internet connection you're using is spotty. Try switching to another connection to see if the app responds better.
If your internet connection is intermittently dropping out and you have no back-up mobile data, the Spotify app may crash. You'll need to maintain a decent internet connection with at least three bars to avoid listening problems.
(3) Update the Spotify app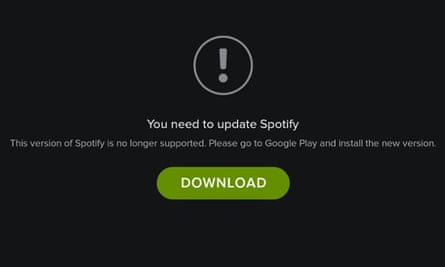 If you can't connect to the Spotify servers, you may need to update the app on your phone. Sometimes an app update has been issued that is mandatory for connecting with the servers. Check the Google Play Store or the App Store to see if Spotify needs to be updated.
(4) Is Spotify Down?
Sometimes the problem isn't your smartphone, but Spotify's servers itself. In early 2020, the Great Spotify App Crashing event was caused by Facebook. An update to Facebook's SDK in millions of apps caused them to crash. Spotify wasn't the only victim in that fiasco – but it was one of the most noticed outages.
(5) Uninstall Spotify, Then Reinstall
If you can't seem to get the Spotify app working on your phone, you may try uninstalling it. Uninstalling the app and starting over with a fresh install can resolve problems, too.
iOS: Press on the Spotify icon until you see 'delete.'
Android: Press down on the Spotify icon until you see a trash can icon or 'uninstall.'
Windows: Type 'Add or Remove Programs' in the Start Menu, then find Spotify and select 'uninstall.'
Mac: Delete the Spotify application from the 'Applications' folder.