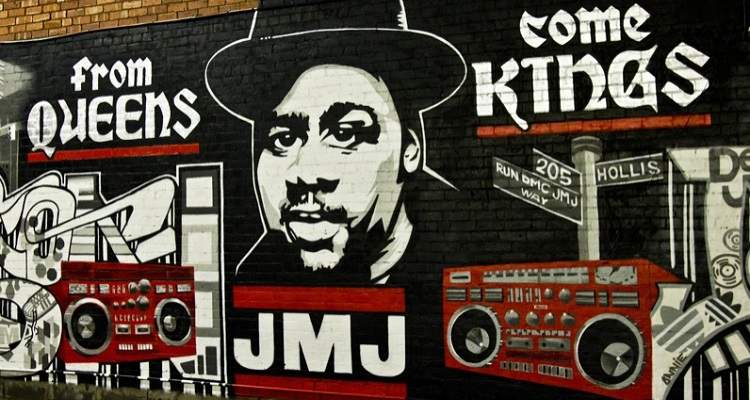 Two suspects have named in connection to the murder of Run-DMC legend Jam Master Jay, who was gunned down in a Queens recording studio 18 years ago.
We've previously questioned how the murder Jam Master Jay — the legendary founding member of Run-DMC — has remained unsolved for so long. Now, we may be getting some answers.
After 18 years, the murder case has long been considered cold. But now, federal prosecutors and the New York Police Department have announced two suspects in connection with the murder — Ronald Washington and Karl Jordan, Jr. According to preliminary details on the charges, the gun-down appears to have been drug-related.
Both Washington and Jordan have been indicted on both murder and drug trafficking charges, which strongly suggests that Jam Master Jay was killed in a drug-related killing.  Currently, Washington is incarcerated in a federal penitentiary for robbery; Jordan is currently in police custody.
The naming of the suspects follows a period of potential silence from witnesses.
Back in 2017, a full fifteen years after the shooting, New York City police detectives told the Associated Press that the "killing of the artist… has gone cold."
But Jam Master Jay wasn't alone the night that he was killed. Randy Allen, Jay's longtime friend, and Uriel "Tony" Rincon were there when the shooting occurred. Jay's assistant, Lydia High, had also "buzzed [the assailants] into the studio," proving that this wasn't a random act. Yet, none offered any information on the shooters that could lead to arrests.
Days before the Associated Press report, former NYPD detective Derrick Parker claimed to know who killed Jam Master Jay.  Speaking with DJ Vlad, the twenty year veteran said,
"I would say that case out of any of the big three [Biggie, Tupac and Jay], that case is close to being somewhat solved.  Hopefully soon, I hope."
It appears that despite numerous witnesses, nobody wanted to come forward.  Parker explained that it's due to a lack of  "witness cooperation," "corroboration of evidence" and "the [unwillingness] of the D.A.'s office at that time to go forward with the prosecution of who was involved."
It's unclear what led to a break in the case.
It's possible that someone with knowledge of the murder details came forward. But the NYPD was also sitting on evidence from the crime scene, and something — a fingerprint, a weapon, even details on a getaway car — may have finally matched evidence from another crime. There's also the possibility of a confession.
Of course, we're not expecting prosecutors to offers clues on possible informants — for obvious reasons.
More details ahead.