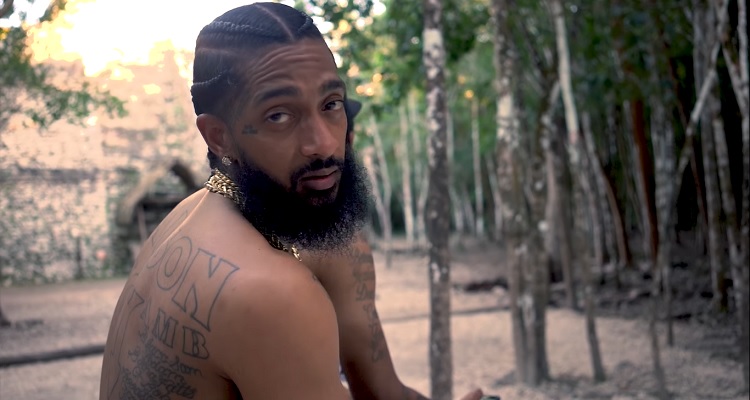 The estate of Nipsey Hussle has filed a lawsuit against "Crips LLC," a company founded in 2018 by factions of the namesake street gang, purportedly to spearhead peaceful community initiatives.
Nipsey Hussle's representative and only brother, Samiel Asghedom, recently submitted the trademark-infringement complaint to a California federal court. To begin, the 20-page-long suit reiterates that Nipsey Hussle began selling The Marathon-themed apparel and merchandise following the commercial success of his 2010 and 2011 The Marathon and The Marathon Continues mixtapes.
After Nipsey Hussle's March of 2019 passing, Samiel built upon a 2016 Marathon Clothing trademark registration by acquiring trademarks for Marathon-related clothing and merchandise. That included tote bags, mugs, and a Marathon retail and online store, presumably to protect his interest in and possibly expand out of the flagship South L.A. Marathon Clothing location. Additionally, Samiel trademarked a 900-word-long collection of items for The Marathon Continues in late May (serial number 88447939), covering everything from books and magazines to "entertainment services."
The Crips filed their own trademark application for The Marathon Continues in May of 2019, seemingly spurring Samiel to secure the latter 900-word trademark. The Crips' trademark encompasses "gang prevention" and "gang intervention" initiatives, besides museums and internet-information services, to name just some areas. And though this application drew "ire and disgust from Nipsey's family and his millions of fans all over the world," per the filing, the Crips failed to honor their pledge to abandon the underlying trademark – and even filed for a second Marathon trademark in September of 2019.
Pushing back against the idea of a potential professional relationship between the late Nipsey Hussle (who was a member of the Rollin 60's Neighborhood Crips) and the defendants, the filing bluntly relays: "Neither Nipsey Hussle nor Asghedom is connected with Defendants or any activities performed by Defendants."
Interestingly, it appears that the Crips have actively pursued other trademarks (well beyond the community-support functions outlined in its 2018 announcement), including by submitting an application for "CRIPS" on September 19th, 2020. Listed under serial number 90193227, the trademark extends across cinematography services, the production of television shows, film, and video games, cooking instruction, community cultural and sporting events, and much more.
The Crips LLC, which has a pseudo mark reading "Community Revolution in Progress," didn't address the trademark-infringement lawsuit in time for publishing. The company's Instagram profile appears to have been deleted.