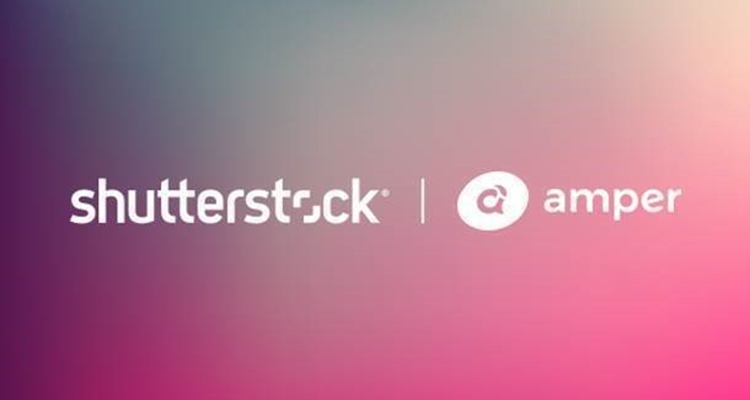 Shutterstock has acquired 'certain assets' from an AI-driven music creation company, Amper Music.
Amper Music allows users to create and customize original music using over one million individual audio samples. The samples feature musicians playing on thousands of unique instruments – for genuinely original compositions.
Shutterstock says its acquisition of these assets will allow it to strengthen its artificial intelligence capabilities. "Particularly in content search and discovery of tracks composed by Shutterstock's community of artists," the company shared. Amper Music's employees will join Shutterstock as part of the acquisition.
"We're delighted to welcome the Amper team to Shutterstock," says CEO Stan Pavlovsky. "We're deeply focused on finding ways to deliver differentiated customer experiences via innovation in our product and services offerings. The infusion of Amper's technology and talent augments our efforts on this front."
Amper Music CEO Drew Silverstein says the partnership will help expand Shutterstock's customer base.
"We're excited to be acquired by Shutterstock as this partnership will bring Amper's Creative AI to Shutterstock's global customer base and represents a great advancement in enabling anyone to express their creativity through music, regardless of their financial resources or technical and artistic expertise."
Shutterstock says once Amper Music's technology is paired with its global community of music composers, content creation workflow will accelerate. "In addition, the acquisition will augment Shutterstock's R&D efforts to bring valuable new innovations that enable faster and simpler content production for prosumers, businesses, and professional content creators."
The idea is that instead of searching for the 'right' stock music piece, content creators will make it themselves. They can pick and choose the instrumentals and tracks that go into the composition, creating a unique music experience. Think of it as the difference between a Twitch content streamer buying a royalty-free music track – or creating their own with Shutterstock's millions of music clips.
It still creates a market for musicians to create royalty-free sounds for content creators. But those sounds can be combined with AI technology to mix a unique music track. Shutterstock will likely grow its catalog of individual audio samples for creating newly mixed tracks thanks to this partnership.
AI-created music is becoming more mainstream as the need for royalty-free music online deepens. Music that is appealing and occupies space before the beginning of a stream, during specific moments or a myriad of other uses, is necessary. The importance of royalty-free music becomes even more important as Twitch continues to play DMCA whack-a-mole with its RIAA takedowns.