TikTok's short-form videos may not be so short anymore – the platform is experimenting with longer videos.
Social media consultant Matt Navarra recently tweeted a screenshot of a new TikTok update. The feature is in the very early stages of development, which means it's not publicly available. Right now, users can upload videos to TikTok that are up to a minute in length.
That's a great length for funny quips, but shorter than most YouTube videos. Creating compelling content in just sixty seconds is hard to do on a consistent basis, though. Longer videos on TikTok would open the platform to more types of content creation. It also feels like TikTok is stepping into the role that Quibi vacated after less than six months. Quibi was short for quick-bites, which TikTok aims its longer videos to be.
Short-form videos define the TikTok experience, so not everyone is happy with the revealed change. But as YouTube videos lengthen over the years, there's definitely a market for shorter videos. Giving platform creators more options means the type of content generated can change.
It also means more exposure for the music industry. Three minutes is plenty of time for content creators to get creative with their music, too.
Instead of a looping track of a 10-15 second clip, users may now feature full songs. It will be interesting to see how this change impacts music discovery and music creation on the platform. TikTok has already become a vital platform in discovering tomorrow's talent. Major labels like Warner Music and Universal are working to find and sign new talent discovered on TikTok.
On YouTube, music videos tend to be the shortest video category compared to others. For example, data taken from 2018 found that most music videos averaged around 6.8 minutes per video. That's compared to gaming, where the average video length is around 24.7 minutes.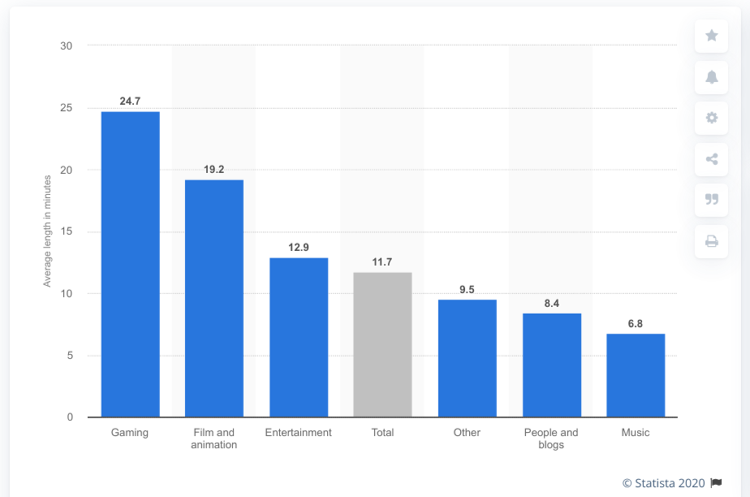 Longer videos also help give TikTok more watch minutes, which is a critical metric for an ad-based service.
Keeping eyeballs scrolling through their 'Discover' feed helps keep engagement high. There's no information on when longer videos are coming to TikTok, but expect them in 2021. That's if the TikTok ban proposed by the Trump administration doesn't derail the platform in the United States.
A scheduled hearing for the TikTok ban will happen later this month to decide on the app's fate. It's unlikely the app will be banned, considering a court has already halted the ban from taking effect.