Jabra Elite 75t earbuds are supposedly better than the competition. Is that really true?
If you're using earbuds, you know that they are pretty convenient for day-to-day use. Especially while working from home, earbuds have been my best friend, drowning out any noise or conversations going on in the house.
I own a few pairs of wireless earbuds, but lately, I've heard that the Jabra earbuds were great for the price, design, and sound quality. Jabra sent me a pair of their Elite 75t earbuds for an honest review, and I was eager to put them to the test.
Overall, when considering prices for a reliable set of earbuds, Jabra Elite 75t delivers solid sound quality for less than its 
competitors
.
They perform just as well — and even better — depending on your unique customizations to your audio. And this goes beyond the sound performance: the physical design of these earbuds is far more appealing than anything else hanging out of your ear.
These earbuds cost $179.99 and have multiple color options. 
Initial Reactions
When they first arrived, I was excited to see how they looked. After slipping the cover off the box, there's a tab you need to pull to reveal the earbuds. Unboxing them, the earbuds are in the center with a note from Jabra letting you know about their Sound+ app that allows you to personalize your sound.
The buttons are shimmery with a smooth matte finish around the earbuds. The charging case also has a smooth matte finish. The case is comparable to the size of a TicTac box and was extremely lightweight, even with holding the earbuds.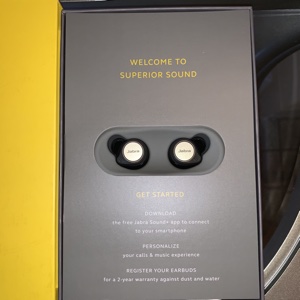 Taking the earbuds out of the frame, I was a bit worried that they looked and felt small in my hand. Once I popped the earbuds in, however, I was impressed with how perfectly they fit.
For one, these earbuds felt like they went a bit deeper into the ear canal than other earbuds. 
I actually enjoyed that because there wasn't much sticking out or hanging out of my ear. 
Jabra provided three sizes for the gel ear-tip: small, medium, and large. The earbuds come standard with the medium tips already on, and those worked out with a snug fit for me compared to the others. But besides all the physical features of these earbuds, I finally wanted to test the sound quality. 
Sound Quality:
Most importantly, I was ready to test if they are better than AirPods. I really wanted to put these to the test with songs in different genres and that I'm currently listening to on repeat. 
The songs I tested it with :
These earbuds have a HearThrough feature. For this initial sound test, I had the HearThrough feature off so I could really examine the sound quality out-of-the-box. Without making personalized sound adjustments, there is a well-balanced crisp tone for each of the songs. It's comparable to its competitors in solid sound quality. Although, the noise canceling experience on these felt more secluded, and I enjoyed that.
If you have the volume at 50%, it still seems pretty low. But once you reach 75%, you get a well-balanced sound. It's easy to hear everything going on in the background of the songs. 
The maximum volume for the earbuds really made the experience different from the other sound levels. There would be a great benefit for Jabra to improve the volume features and how well it sounds at all levels and not just at the higher mark of 75% and up. 
Sound Customizations:
One of the intriguing features of these earbuds is the HearThrough feature. The HearThrough feature amplifies your surrounding sounds, whether there's music playing or not. 
This was something I haven't experienced as a feature for a pair of earbuds or headphones. A downside to it was with amplifying the sounds around me, the sound quality went down a bit.
With the HearThrough feature off, it truly secluded any other sounds from interfering with the music and sound quality. When you have the HearThrough feature on, it amplifies the sounds around you, whether there's music playing or not. The wind would muffle the music, and that was just not a good combination. I found use in it when I was exercising near busy streets to hear for any cars coming by or honking; other than that, I probably wouldn't use that feature much.
Now, I was ready to see what the audio experience would be like messing around with the app's personalizations. You're able to customize your sound with the music equalizer, explore ambient preset sounds, and control the HearThrough feature option.
When toggling around with the music equalizer, there's a bit of a static you can hear when you're making adjustments. The static goes away once you have settled on where you place your preferences on the EQ.
I like the personalization feature because it made my listening experience unique for the different genres.
In addition to the sound customizations, there are various presets of ambient sounds. The ambient sound selections they had were a pleasant surprise. I enjoyed listening to the sound of rain, crashing waves, or songbirds.
Durability:
I was also intrigued to see how this earbuds model would hold up with sweat from exercise. 
Jabra has an active version of the Elite 75t earbuds built to resist sweat, but I thought why not test the non-active edition at the lower price. I was happy to see that they did hold up sweat well, for the most part. If you're one to sweat a lot more easily with the ears, it's worth mentioning that the more sweat produced, the earbuds did feel to slip out a tiny bit.
Additionally, with exercising, if you're doing any harsh movements or big jumps, the earbuds do slip out a bit, but it's just a slight push back in for ultimate security.
In comparison to AirPods, there have been more times than I've liked where I'd bend down and one of the pods has already fallen out before I can adjust.
Final Thoughts:
After testing it out for a couple of weeks, I'd say that these are a great alternative to its competitors. 
If you're looking at price points, you'd be getting more value out of these for the price that they're at since you'd be able to personalize your sound along with it. What makes these earbuds great, apart from its competitors, is that these earbuds' comfort and fit really take the cake. They don't stick out and it doesn't feel like anything is weighing down on the ear. 
As a plus, the battery life was awesome. I didn't have to charge them super often and even when I did, it took a short amount of time to charge back up to max battery.