The Super Bowl LV performers' line-up is nearly complete after the latest reveal.
Eric Church and Jazmine Sullivan will perform the National Anthem before the big game. Singer H.E.R. will also perform "America the Beautiful" before kick-off. Deaf rapper and artist Warren "Wawa" Snipe will perform both songs in American Sign Language.
Demi Lovato sang the National Anthem at the Super Bowl last year. Previous performers who were granted that honor include Gladys Knight, Lady Gaga, Whitney Houston, Beyoncé, Diana Ross, Jennifer Hudson, Pink, Idina Menzel, Mariah Carey, Alicia Keys, Neil Diamond, Luke Bryan, Jordin Sparks, and Billy Joel.
This year, CBS will air the game on February 7th, with the kick-off show starting at 6 pm ET. The Weeknd will hold court as the Super Bowl Halftime performer. Last year, the Super Bowl Halftime Show attracted more than 104 million viewers.
Super Bowl LV will feature one of its most diverse lineups ever. It's nice to see that the NFL is sticking to its guns to support racial equality. The National Anthem and "America the Beautiful" have always been an important part of these sports ceremonies.
As of the time of writing, it's still undecided who will play. This weekend, the Buffalo Bills are playing the Kansas City Chiefs for the AFC title. Meanwhile, the Tampa Bay Buccaneers will face-off against the Green Bay Packers for the NFC title. The winners of both of those games will then face-off in Super Bowl LV.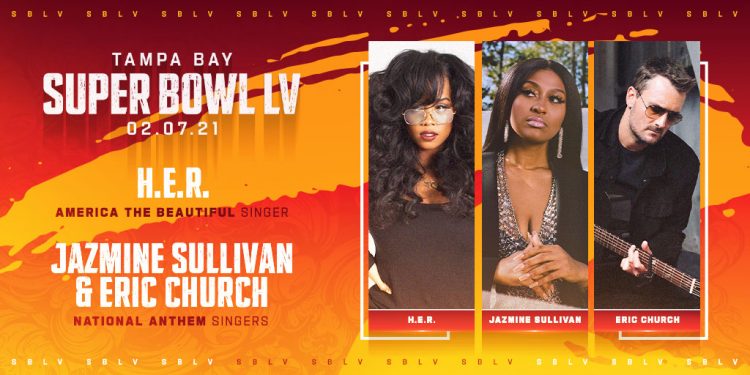 The NFL received tons of backlash when it pushed back against Colin Kaepernick's protest against police brutality. That backlash reignited in 2020 with George Floyd's death, with the NFL relaxing its restrictions against kneeling during the Anthem.
A study in 2020 found that 52% of Americans approved of NFL players kneeling for the anthem. That has sparked a shift in how the NFL approaches racial justice. After banning kneeling in May 2018, the NFL admitted it was wrong for not listening to players.
"We, the National Football League, admit we were wrong for not listening to NFL players earlier and encourage all to speak out and peacefully protest," Commissioner Roger Goodell recently said. The NFL has stuck to that statement while supporting several racial justice initiatives both on and off the field.
It will be interesting to see if The Weeknd's Halftime show breaks last year's record of 104 million viewers.