The partnership between the National Football League and Jay-Z's Roc Nation has caused plenty of controversy from all directions.
And this controversy does not seem to be abating. The latest figure to the stir the pot is former NFL quarterback Colin Kaepernick, who indirectly criticized Jay-Z and recent comments the famed entertainer has made in defense of the partnership.
Over the weekend, Kaepernick issued a rare post on his Instagram account.  The post contains images of current football players Eric Reid of the Carolina Panthers as well as Albert Wilson and Kenny Stills of the Miami Dolphins.  All three are kneeling during the playing of the national anthem in protest to police brutality, along with a caption that indicates that the three have "never moved past the people."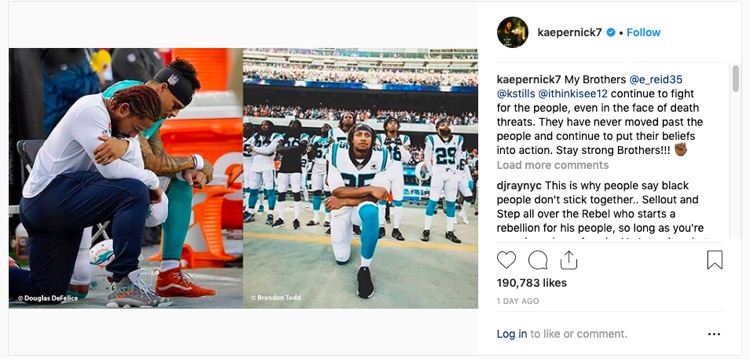 The post was in response to comments Jay-Z made in defense of his partnership with the NFL.  He said that he has moved past the kneeling controversy and was instead focused on more important things. Obviously, though, not everyone shares in this opinion.
After being asked if he himself would kneel, Jay-Z avoided the question.  "We need to move past kneeling," Jay-Z stated, flanked by NFL commissioner Roger Goodell.
A key factor that has kept the controversy alive are the reports that Jay-Z may soon take a minority stake in an undisclosed NFL team (or, even a majority stake depending on the rumor). This news particularly rankled Eric Reid, who said that he thought Jay-Z was "sounding despicable."
What upset Reid most is that Jay-Z was once a big supporter of Colin Kaepernick.
He wore Kaepernick's jersey and told fellow performers not to perform at the Super Bowl because of how Kaepernick was treated by the NFL.  Reid is now insinuating that Jay-Z has only changed his position in the matter because of the money he could earn from the NFL.
But not everyone is so critical of Jay-Z.  Superstar rapper Cardi B has come to Jay-Z's defense.  She feels that Jay-Z could make a positive change to the culture of the NFL, and even thinks that he could perhaps facilitate Colin Kaepernick's return to the league.