DaBaby was abruptly cancelled by Lollapalooza over the weekend following the rapper's homophobic outburst at Rolling Loud.
DaBaby is now facing another cancellation following his homophobic onstage rant at Rolling Loud last week. Just hours before DaBaby's set was slated to begin at Lollapalooza, the rapper was informed that his appearance was cancelled. Lollapalooza organizers issued the announcement at approximately 10:30 am Chicago time on Sunday, less than 6 hours before the rapper's afternoon set was slated to begin.
It's unclear how much notice DaBaby and his team received prior to the cancellation announcement. In his place, Lollapalooza slotted G Herbo and Young Thug to perform.
"Lollapalooza was founded on diversity, inclusivity, respect, and love," the festival stated. "With that in mind, DaBaby will no longer be performing at Grant Park tonight. Young Thug's performance will now take place at 9:00 pm at the Bud Light Seltzer Stage, and G Herbo will perform at 4:00 pm on the T-Mobile Stage."
Both slots were considered prime, though the loss of the 9 pm slot will hurt the most. DaBaby was preparing to perform in front of more than 100,000 fans — at least — while helping to close the four-day festival. But that high-profile position quickly turned into a liability, with Lollapalooza organizers undoubtedly facing mounting pressure to nix DaBaby from the bill.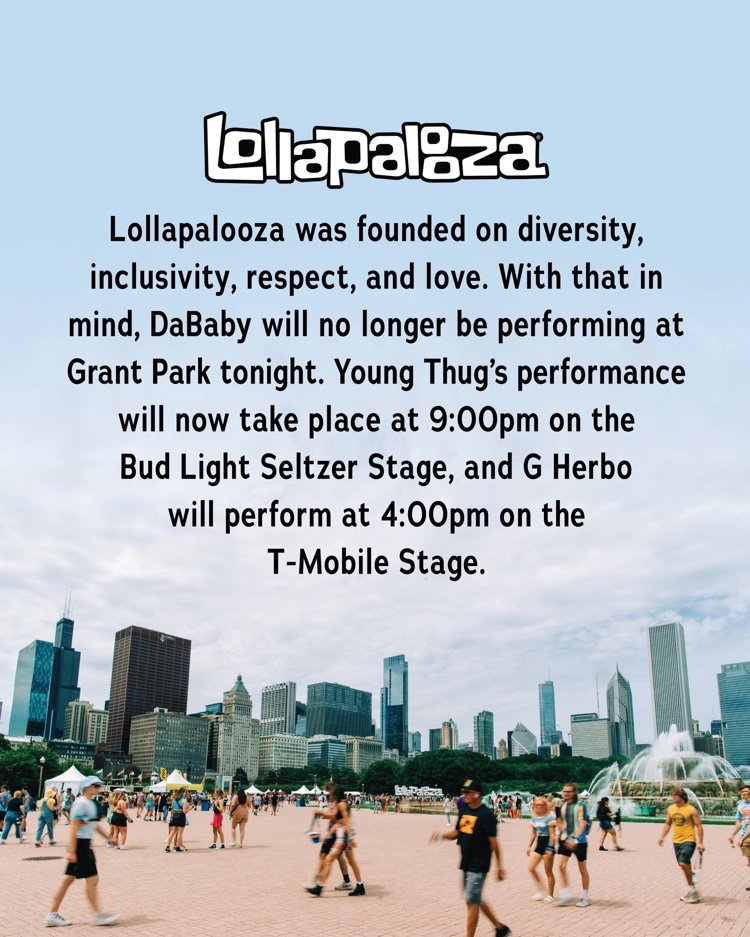 It's unclear if DaBaby will be compensated for the slashed gigs. Though DaBaby's reps are likely to demand payment in the absence if a clear breach-of-contract cannot be established.
Meanwhile, it also remains unclear if others will also cancel the rapper. So far, DaBaby's label, Interscope/Universal Music Group, has remained silent. But fashion sponsor Boohoo has severed its ties with the rapper, and others could follow suit.
For those just tuning in, DaBaby faced extreme backlash after a homophobic shout-out to the audience at Rolling Loud.
"If you didn't show up today with HIV, AIDS, or any of them deadly sexually transmitted diseases, then put your cellphone lighter up," the rapper screamed at the crowd.
"Ladies, if your p**sy smell like water, put your cellphone lighter up. Fellas, if you ain't sucking d**k in the parking lot, put your cellphone lighter up."
DaBaby added that he was 'keepin' it real' after murmurs went through the crowd.
As if that wasn't enough, DaBaby then issued an 'apology' by noting that his 'call to action' wasn't to his gay fans, because they aren't "junkies" or the "nasty" type that would contract HIV or AIDS. Of course, that only made the situation worse, while sparking criticisms from Elton John, Dua Lipa, Madonna, and Questlove of The Roots.
Incidentally, both T.I. and Boosie Badazz leaped to DaBaby's defense. T.I. actually jumped to DaBaby's defense twice, and criticized people for bullying the rapper.
"Why do words cause such a visceral reaction that will lead to someone trying to attack, villainize, demonize, crucify, and condemn?" the rapper asked. "That sh*t is like, now you bullying. We all stopped up on behalf of gays and lesbians and people in the gay community because we thought it was some bullsh*t for ya'll to have to be bullied. But I don't think any of us did that to feel like you would now have the authority to come and bully us."