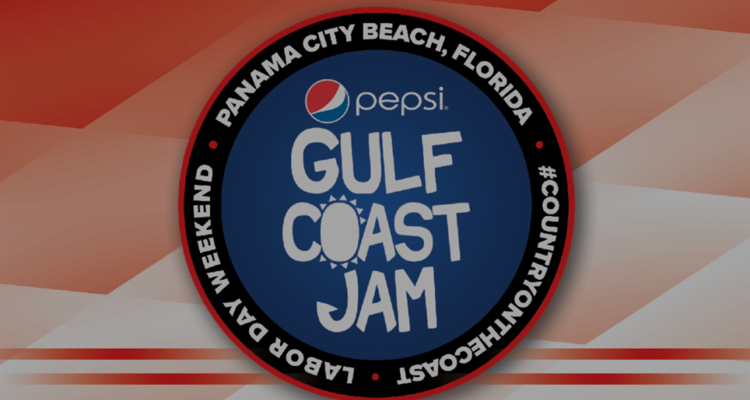 Florida's Pepsi Gulf Coast Jam over Labor Day is postponed due to rising COVID-19 cases.
The festival organizers released a statement on the official website. "Due to the ongoing public health emergency caused by the current growth of COVID-19 cases in Bay County, Florida and across the country, the 9th Annual Pepsi Gulf Coast Jam, scheduled for September 3-5 2021, in Panama City Beach, has been moved to June 3-5, 2022."
Tickets to this year's postponed event will be honored at the 2022 festival. But refunds will also be available to those who want them. It's unclear if the lineup for the Pepsi Gulf Coast Jam 2022 event will remain the same.
Performers that were to be featured at this year's Pepsi Gulf Coast Jam Festival included headliners Chris Stapleton, Brooks & Dunn, and Old Dominion.
Other performers scheduled to take the stage included Gary Allan, Chris Janson, Scotty McCreery, Tracy Lawrence, Randy Rogers Band, Tyler Rich, Frankie Ballard, Darryl Worley, Steve Moakler, Lily Rose, Corey Smith, Elvie Shane, Ryan Griffin, Tigirlily, Tom Yankton, and Presley & Taylor.
The COVID-19 cancellation of the Pepsi Gulf Coast Jam may have had a silver lining, though. Organizers for the two events moved their dates permanently for the next five years. Panama City Beach officials altered contracts with production companies R&M Entertainment and PCB Entertainment to change the dates of the Pepsi Gulf Coast Jam and the SandJam Fest, 2022 to 2026.
"They're moving the Gulf Coast Jam to the first weekend of June and SandJam to the first weekend of October," confirms City Manager Drew Whitman. Rendy Lovelady, co-owner of both production companies, says the change in dates will help the festivals gain more traction among music fans.
Lovelady adds that the Gulf Coast Jam saw massive success this year at its June date. The combination attendance for the show was around 70,000 people, around 2,000 more than previous years.
"The TDC approached us about moving away from Labor Day weekend," Lovelady says. "When we started Gulf Coast Jam, the attendance in the area for that time was low, but now the attendance is high. The weekend after Memorial Day is one of the lowest attended weekends of the summer."
Lovelady says he hopes the date change will help bring more tourists to the area. "It's not a power move on our part by any means. It's still risky for us to move [the festivals]. It just seemed like the best scenario for everyone."