Don't like what you hear when you stream music on Spotify? Find the best Spotify equalizer settings for your favorite genre. Here's how.
Changing the equalizer settings in Spotify can help bring music to life, even with a pair of mediocre earbuds. Spotify has hidden the equalizer settings fairly deep in the app – so you may not even realize they're there. Here's how to access the equalizer settings and some tips for tuning the music to your taste.
How to Access Spotify Equalizer Settings
Tap the 'Settings' gear icon in the upper right.
Scroll all the way down to the 'Equalizer' option; tap it.
Accept the warning and begin playing your favorite genre.
Try some of the preset settings to see if they change the sound profile to your liking.
The Spotify app includes automatic settings for Pop, Classic, Jazz, and Rock genres. You can also customize the equalizer settings to your liking with custom mode. Just because you're listening to rock music doesn't mean the rock preset will be the best to your ears. Some phone manufacturers like Samsung also include support for Dolby Atmos mixing.
Further Improving the Spotify Listening Experience
Once you have the best Spotify equalizer settings for your ears, there are a few other settings you may want to turn on or off. First, if you're annoyed by uneven volume levels between tracks – there's a setting for that.
Navigate to the 'Settings' menu and find 'Normalize.'
Change the toggle to on, and Spotify does its magic to stop uneven volume.
Choose between 'Quiet,' 'Normal,' and 'Loud' volume levels.
Audio Quality Controls – Spotify
Spotify offers several different audio quality controls depending on your connection. You can set different quality controls if you're on a WiFi connection versus your 5G connection while out and about. Spotify doesn't define its audio quality in the app, so here's a quick approximation.
Low Quality – 24 kbit/s
Normal Quality – 96kbit/s
High Quality – 160kbit/s
Very High Quality – 320kbit/s*
*Only Spotify Premium subscribers have access to the Very High Quality audio option in the Settings.
Fine Tune Spotify Settings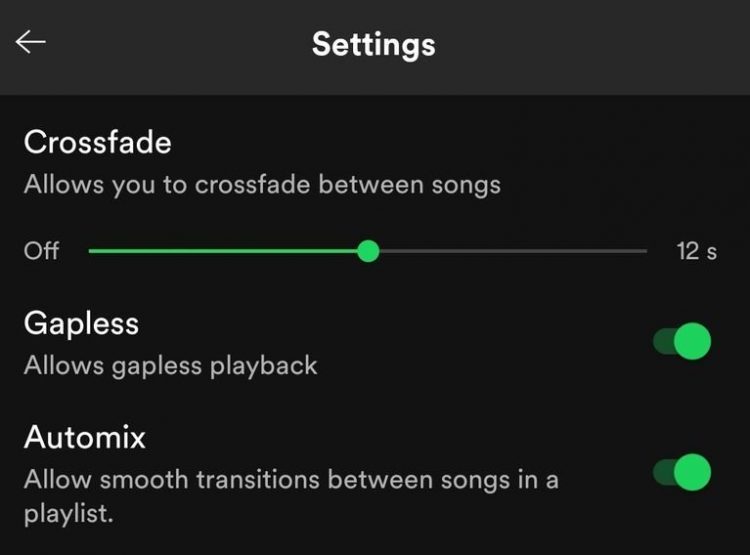 Once you have the best Spotify equalizer settings and your audio quality tuned you should have music that sounds much better. However, there are a few other settings you may want to enable. Here's how.
Crossfade
Love continuous listening that bleeds into the next song? You can turn that on in Spotify by enabling the crossfade option. You can even select how long the crossfade should be and whether or not the playlist songs should be mixed. Gapless playback keeps the music going without mixing it.