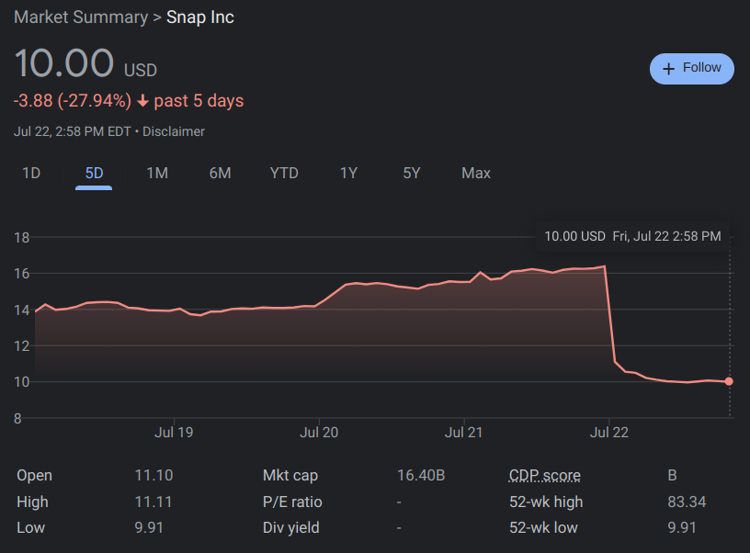 SNAP shares plunged more than 25% in extended trading hours following a disappointing Q2 2022 earnings report.
The report says Snap Inc. plans to slow hiring as it contends with weakening revenue growth. "We are not satisfied with the results we are delivering, regardless of the current headwinds," the company's letter to investors notes.
Snap says it is not providing forward guidance for Q3 before "forward-looking visibility remains incredibly challenging." The company says that its revenue so far in the period is "flat" from a year earlier. Meanwhile, Wall Street analysts were expecting the company to see sales growth of at least 18% for Q3.
Snap stock has lost nearly two-thirds of its value in 2022. Back in May 2022, the company shared that it wouldn't meet Q2 guidance set in April 2022. That announcement resulted in a 43% stock plunge that has continued downward.
"The second quarter of 2022 proved more challenging than we expected," Snap continues in its letter to investors. As a result, Snap will slow its rate of hiring and the rate of its operating expense growth.
Snap says its growth problems have resulted from slowing demand for its online ad platform. Apple's 2021 iOS update that impacted Facebook is also having an impact on Snapchat's ad viability. Meanwhile, many companies are switching their advertising campaigns to TikTok – where the youngest eyeballs are.
"In certain high-growth sectors, businesses are reassesing investment levels amid the rising cost of capital, which is further reflected in campaign budgets and the level of bids per action," Snap shared about its flagging advertising program.
Snapchat finally made its service available on the web via desktop browsers after years of insisting on a mobile-only experience. It is also testing a Snapchat+ paid program for $3.99/month that lets people see who has viewed their snaps.
Snap's market valuation at its IPO in 2017 was $25.5 billion, but now the company is worth around $20 billion.