Muso.AI has announced the arrival of ENCORE 2022 — designed to bring together disparate music credits into a unique, dynamically-updating accolade. ENCORE allows behind-the-scenes artists to showcase their career achievements across streaming and social platforms.
Bringing data from Spotify, TikTok, YouTube, SoundCloud, Apple Music, and more, ENCORE highlights creators' top tracks and collabs, total streams, Shazams, socials, and chart and playlist activity. Participants can share stats for any Muso.AI profile they follow or manage.
Speaking about the inspiration behind ENCORE, Kyran de Keijzer, Muso.AI's co-founder and chief product officer, said, "We started to see some callouts from our users who wanted to share their Muso.AI stats on social media alongside other end-of-year roundups. That's what inspired us to create ENCORE."
By making metadata social and shareable, the company is aiming to encourage greater global participation in the collection of credits metadata. Digital Music News has recently joined forces with Muso.AI to accelerate that mission.
Jay Baumgardner, Muso.AI co-founder and CEO, added, "We wanted to give every person in every industry role a fun way to be able to share their career achievements with their friends, family, followers, and colleagues."
The company reported that over a million credits have been modified and added into the Muso.AI system. According to de Keijzer, these credits  previously didn't exist on any platform. "People want to see their numbers go up, and they want to share it," de Keijzer told Digital Music News. "It's a proven way to get people excited about metadata."
With the launch of ENCORE, users access more creative tools and methods to share insights from data. According to the company, the social and shareable aspect tells the story of metadata in a more dynamic way.
Condensing potentially hundreds of credits, the full ENCORE story also includes a highlight reel, a summary image that can be downloaded as an image for Instagram, and a commemorative framed poster to hang inside studios and offices. The framed poster can be ordered in two different sizes, and is express-shipped all over the US. This poster includes artists' worldwide streaming numbers, Shazams, the number of videos their tracks are featured in, and the number of video views on socials.
These three ENCORE assets attempt to end the narrative of metadata being an unfortunate necessity that comes with an otherwise exciting music project.
According to the company, the main asset — the highlight reel — is the catalyst that makes people care about credits. The ability to watch the numbers go up inside of analytics is what draws the engagement. The video makes data approachable, and propels creative people to become part of the process as metadata evolves into a social accolade.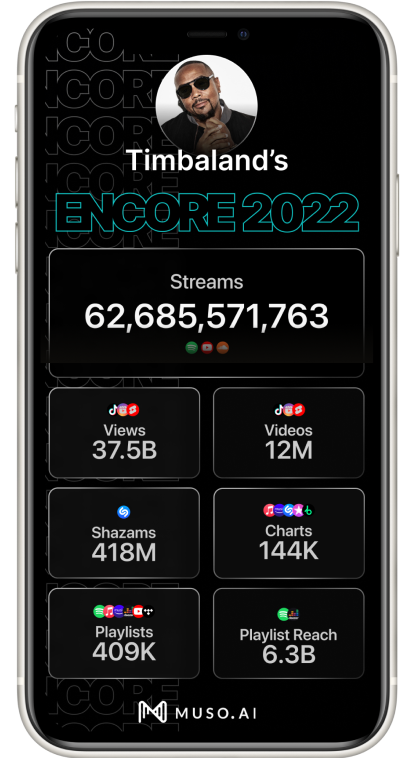 ENCORE is exclusive to Pro members, but users can gain free access via a seven-day free trial offer until January 20, 2023.
Muso.AI is delivering their metadata innovation via unique AI that allows indexing of all data from streaming and social platforms, giving users the ability to review their data, add music credits, untangle issues, and get access to analytics — including historic data and daily updates.
Boasting a database of over 10 million profiles and 130 million credits, Muso.AI has helped modify roughly half a million credits this year. With credits being disparate and often unrecognized, ENCORE is ensuring that artists finally receive the recognition they deserve for their verified body of work. This represents a serious, practical solution to a long standing industry problem.
While metadata remains an unsexy industry chore, it's a critical part of collecting earnings and proper credit. De Keijzer doesn't deny that music metadata has always been boring, but makes a decent argument for how ENCORE is changing the narrative. He said, "We're giving users creative tools to share insights from their data. ENCORE is the catalyst to make people care about their data."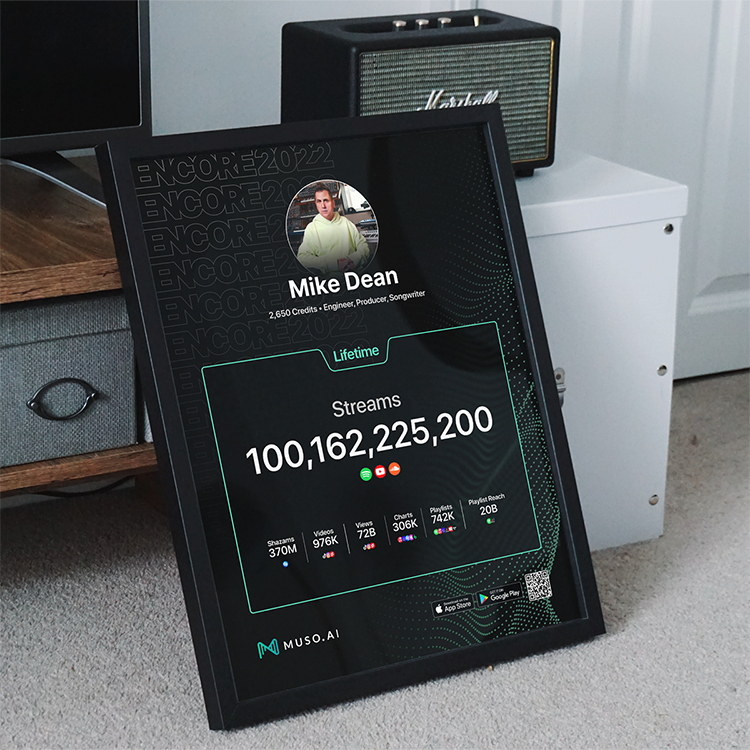 Realistically, can ENCORE accelerate credits matching and updating, and 'make Metadata fun?'
De Keijzer explained how the resulting engagement from ENCORE translates into actual, tangible benefits for rights holders. Talking about global participation as a tool to sow a culture of caring about credits, de Keijzer said, "When users engage, they fix bad catalog data. It's everything rights holders, DSPs, and CMOs need. Everyone benefits from the engagement."