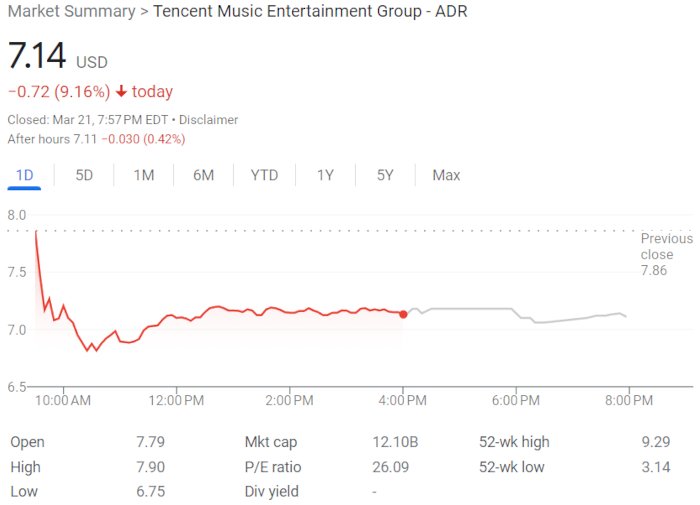 Tencent Music (NYSE: TME) generated north of $1 billion during 2022's fourth quarter, when streaming's paid users approached 90 million and net profit neared $170 million, according to a new earnings report.
The Shenzhen-headquartered streaming company, which operates QQ Music, Kugou, and Kuwo as well as a karaoke app called WeSing, posted its Q4 2022 (and full-year) financials today. Per the analysis, Tencent Music pulled down CNY 7.43 billion (roughly $1.08 billion at the present exchange rate) during the three-month stretch – a slight increase from Q3 2022 but an approximately 2.4 percent dip from the same period in 2021.
Moreover, the revenue plateau occurred amid heightened competition (compounded by a crackdown on exclusive music) from the likes of NetEase Cloud Music and TikTok owner ByteDance's Qishui Yinyue, both of which are working to expand in what the IFPI says is now the world's fifth-largest music market.
In any event, Tencent Music also posted subscription revenue of CNY 2.35 billion (about $341.35 million) for October, November, and December of 2022, a YoY increase of almost 21 percent, as the number of paid users jumped 16 percent YoY to hit 88.5 million and average monthly revenue per paid user rose 4.7 percent to CNY 8.9/$1.29.
Once again in a testament to the stiff competition in the rapidly developing Chinese market, however, the business likewise disclosed a 7.8 percent YoY falloff in online music mobile monthly active users (MAUs), who are said to have numbered 567 million as of December 31st.
"During the fourth quarter, the surge in COVID-19 cases and churn of our casual users amid competition, along with cost optimization measures aimed at boosting monetization efficiency as a platform of scale, led to the year-over-year decline in online music mobile MAUs," Tencent Music explained.
Keeping alive another quarters-running trend, Tencent Music identified a 16.6 percent YoY decrease in social entertainment mobile MAUs, for a total of 146 million. Social entertainment's paid users fell 15.6 percent YoY to 7.6 million, the company said, whereas the category's average per-fan revenue slipped 3.1 percent YoY to CNY 169.6 ($24.63).
"We currently expect our quarterly revenues from online music services will exceed those from social entertainment services at some point within this year," Tencent Music executive chairman Cussion Pang said during his company's Q4 earnings call.
But as initially mentioned, Tencent Music indicated that its Q4 2022 net profit had come in at CNY 1.15 billion ($167.04 million), owing in part to a 64.5 percent YoY decrease in "selling and marketing expenses" (CNY 266 million/$38.64 million total) and a relatively small 2.6 percent YoY boost for "general and administrative expenses" (CNY 1.10 billion/$159.78 million total).
Elsewhere in the multifaceted performance analysis, Tencent Music touched upon its continued embrace of artificial intelligence; boasting "a record-grade, automatically generated vocal print developed by" LyraSinger, one Lucy, billed as a "hyper-real virtual pop idol," is said to have "received partnership interest for joint performances from a broad array of global brands."
Meanwhile, Tencent Music is using its patented Lingyin Engine "to produce long-form audio content read by synthetic voices," and QQ now supports a "VR greeting card feature."
Finally, the streaming-platform operator has completed a two-year-old $1 billion share-buyback program, and its board has given the green light to a second buyback plan (under which $500 million is expected to be deployed across 24 months). When the market closed today, Tencent Music stock was worth $7.14 per share – down 9.16 percent from Monday.