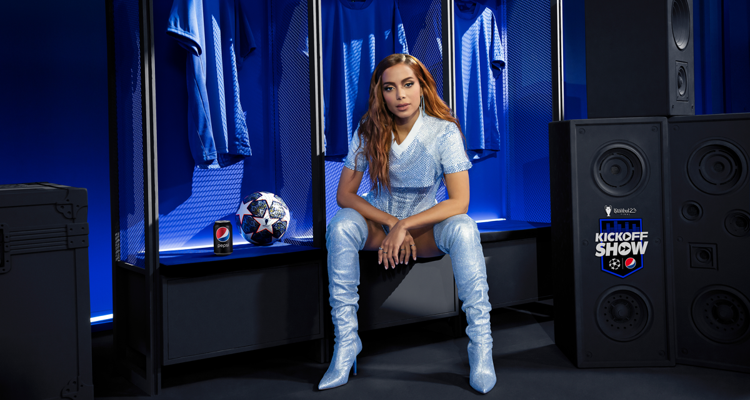 Pepsi and UEFA have announced that Brazilian pop sensation Anitta will co-headline the 2023 Kick-Off Show alongside Burna Boy.
Pepsi has announced global pop star Anitta will co-headline the 2023 UEFA Champions League Final Kick-Off Show on June 10, joining Afrobeats sensation Burna Boy.
Following a record-breaking year that included the release of her fifth studio album, Versions of Me, the Grammy-winning Anitta will bring her high-energy style to Istanbul's Atatürk Olympic Stadium for a performance just moments before the big event.
To further promote the highly anticipated performance, Pepsi released a short film entitled "The Prep," which brings Anitta and Burna Boy together "in classic Pepsi style." In it, we listen to Burna Boy's "It's Plenty" and Anitta's "Envolver" as each artist prepares for their epic Kick-Off Show performance.
"I'm so excited that the news is finally out!" commented Anitta. "I'm delighted to be performing at the UEFA Champions League Final Kick-Off Show by Pepsi, and I can't wait to co-headline alongside Burna Boy. We're going to bring an unmissable show to fans in the stadium and around the world, so make sure to tune in on June 10 — you won't want to miss this!"
Pepsi is also allowing fans for the first time to participate in the performance via the #PepsiKickOffShow challenge, which launched in March. The challenge encourages fans to show off their best ball skills and dance moves.
"Each year, we are proud to work with the biggest and most exciting names in music to provide first-class entertainment moments for fans around the world," adds Gustavo Reyna, Pepsi's Senior Director of Global Marketing. "This year's 2023 UEFA Champions League Final Kick-Off Show by Pepsi will be co-headlined by global superstars Anitta and Burna Boy — two artists who embody our 'Thirsty For More' philosophy, which celebrates people's thirst for life — and we're excited to see fans actively being part of this unmissable show via the #PepsiKickOffShow challenge. It's going to be a truly fantastic spectacle!"
"This season's spectacle promises to be unforgettable, with an exciting lineup of artists set to take the stage ahead of the UEFA Champions League Final in Istanbul," concludes UEFA marketing director Guy-Laurent Epstein. "We're proud of our longstanding partnership with Pepsi, which enables us to bring even more excitement to fans, and we are looking forward to sharing this season's UEFA Champions League Kick-Off Show by Pepsi with everyone."
Fans can tune in to watch the Kick-Off Show through the official UEFA YouTube and TikTok channels and local broadcast. One more special guest will be announced in the lead-up to the final, so fans can stay tuned by checking this space and following Pepsi on social media.