Actually, people aren't listening to more music than ever before in history, at least according to these experts.  Which is strange, because there's more music available to more people, through more channels and at a cheaper price than ever before.  "In reality, people aren't spending more time or more money on music than they used to," said Live Nation Labs head of product, technology, and design Ethan Kaplan during the opening panel at SF Musictech Summit on Tuesday.
"So it's trending lower."
Ty Roberts, chief technology officer at one of the largest companies in digital music, Gracenote, took things a bit further.  "We do have an issue, in America and the world, which is that the average person today knows a lot fewer artists," Roberts assessed. "The average person knows between 10 to 20 artists, that's it.  There used to be a time when that was 40 artists."
This isn't based on a statistical sample, and Roberts noted that this is more anecdotal than scientific data.  Then again, consider the source: this is a music technologist who's been monitoring endless streams of usage, data, behaviors and stats since the 90s.
"The message of 'lots of different artists' is lost upon [today's listener], and they're losing track of what artists are important to them faster."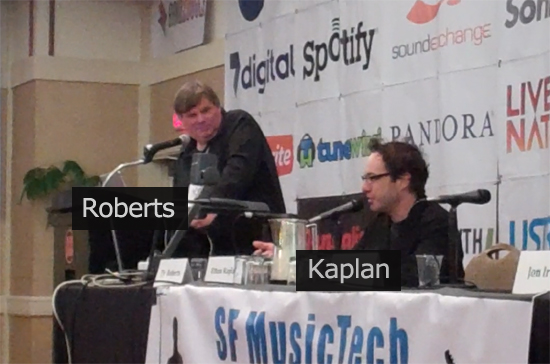 But how could there be more music flooding our ears, yet suddenly less engagement in that music?  Kaplan took things a step further by pointing to, well, everything else that's also flooding us.  "Think about it logically," Kaplan told Digital Music News.  "In 2013, the difference between a friend and a band is inconsequential in terms of how it's represented on your screen.  So, if you look at the media landscape in terms of how we engage with media, it's all self-normalizing at this point. Friends on Facebook, music, something on Reddit, a video, it doesn't have any difference."
"It's harder to drive loyalty to anything that isn't differentiated from anything else."
Which means, more stuff and far shallower engagement with that stuff.  "It's an issue just because of the exponential growth of media at your fingertips," SoundHound vice president Katie McMahon told us, while pointing to the relative non-use of endlessly-downloaded apps on our phones, iPads, or whatever as one example.
The same seems to apply to all that music we could easily listen to, but don't.