Swedish superstar, Avicii, makes more money from streaming than download and CD sales combined
"Data reviewed by The Wall Street Journal showed that one major record company makes more per year, on average, from paying customers of streaming services like Spotify or Rdio than it does from the average customer who buys downloads, CDs or both."
The WSJ also states that the average "premium" subscription customer in the US is worth $16 a year to this major label, while the average buyer of digital downloads or physical music is worth about $14 a year.
Ron Pope, a DIY musician who I profiled in How 10 Musicians Who Make Good Livings In Today's Music Industry, makes well over $100,000 a year and his #2 income source is from Spotify. He has millions upon millions of plays on Spotify and his top song (20 million plays) was released 5 years ago. It's still his top song.
While there isn't a set "per stream" royalty rate on Spotify because of factors including premium subscribers vs. free subscribers, Spotify explains that it pays out between $.006 and $.0084 per stream.
Ron's top 10 songs on Spotify have a combined play count of 46.4 million. By my calculations, 46.4 million plays x $.0072 (Spotify's average per-song royalty payment) = $334,080 in just a couple years. No label is taking a cut of that either. Hmm.
Sweden's Music Market Growth
Last year, Sweden's music market had a 13.8% growth, while the rest of the world has only seen a 0.2% trade revenue growth since 1999. 91% of digital income in Sweden now comes from streaming sales. Some say Sweden, the home of the notorious The Pirate Bay, destroyed the record industry. Well, maybe for a time it put a dent in it, but I'd say Spotify has redeemed the country. Similarly, how the creation of iTunes gave people a cheap and easy way to obtain music instantly and drove music fans away from piracy (sure it still exists, duh), Spotify, Rdio and other streaming services are ushering in the new, revenue driven digital music era.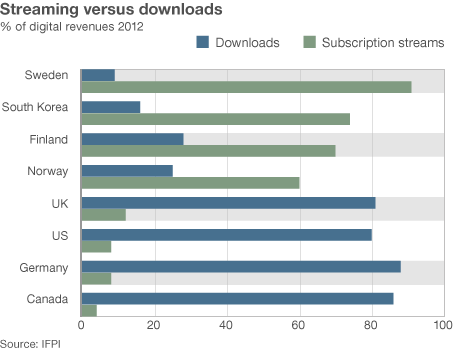 "I am 100% sure that this is the future. Streaming services will be the next step for global music consumption,"

– Per Sundin managing director for Universal Music in Sweden.
Avicii, with his massive, worldwide hit of "Wake Me Up" actually makes MORE money from Spotify than iTunes and CDs combined.
Step back for a second and let that sink in.
Streaming is a much better model than sales. Streaming rewards those who create great music – not just those who have the biggest marketing budget. Sure, it might take a few years for a DIYer to reach the same amount of streams a major label pop artist gets in one week, but the great music will last and continue to be played. The shit pop will die. Fast.
The majors are going to need to change their business model very soon. I predict seeing them return to the career building days of yore. Instead of signing the sexiest, auto-tuned shell of a singer, get ready to see a resurgence of great acts being signed and sustained. It may take the majors a few years to understand that this is the way of a profitable future, but they will realize it soon enough.
Above all, if you create great music and respect your fans, you can have a long career and can actually make money on your recordings for years to come. We are in a beautiful time in the history of the music industry.