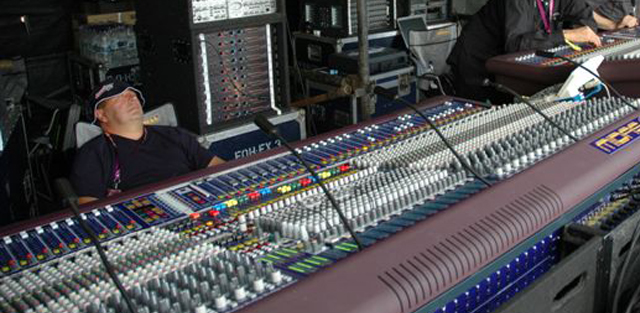 I took some heat from my 9 Things Every Musician Needs to Know About The Sound Guy. Some from female engineers calling me sexist (even though I initially said "guy or gal" but explained I was going to use "guy" out of ease). Similar to how I used the feminine in this piece about producers. I switch off.
Many musicians told stories of horrible sound guys they'd worked with. And some sound guys still thought I was too soft on musicians.
Above all, I took the most heat from sound guys telling me to call them Front of House Engineers. Get over yourselves. I'm calling you a sound guy  because it reads better. I'll show you the respect of FOH engineer title once you show me the respect of artist (and not POS).
Well sound guys AND GALS, this one's for you.
Before laying into me, PLEASE READ THE INITIAL POST if you haven't. I'm pretty darn supportive of FOH engineers. When you're great, I love you. When you suck… well read on.
Here's a musician's take from working with over 500 front of house engineers from around the globe.
1. Not All Of Us Suck
I can't tell you how many times the sound guy has had a chip on his shoulder from the moment I pulled up to the club. Maybe he doesn't like Toyotas. Or jewfros. But from the moment I walked in, there seemed to be nothing I could do or say that could brighten his mood or day.
I cannot stand disgruntled sound engineers. I didn't make you this way. So why must you insist on taking it out on me? I'm sorry you had conceited bands shit on you back in the 90s, but if you're not over it by now, then you really should consider finding a profession where you don't need to interact with humans. We have feelings. Most of the time these feelings are off the charts! We're artists for god's sake.
Please put yourself in OUR shoes. We just drove 300 miles on very little sleep. We can't afford more than shitty Subway every day for the past 45 days. We're tired. We're famished. We're smelly and most of the time the hot water ran out before it was our turn to shower. We not only need to clean ourselves up enough to look presentable, but bring a great attitude to the stage and put on a show worthy of the cover price people are paying.
We're the ones on stage. Not you. Give us a break!
2. Sometimes Our Advice Is Pretty Darn Good
I once played a show at a very established club. With a weathered sound guy who knew his club all too well.
I'm a looper. I beat box. Every time the beat came back around, the beat disappeared. He couldn't figure it out. Luckily, I had experienced this before so I knew what to suggest.
Before I could open my mouth he was checking every cable, DI, input and compressor. I asked him if it could be the limiter and he assured me there was no limiter. It was HIS new digital board (that he probably wasn't that comfortable on yet), but "there was absolutely no limiter."
10 minutes later when we established every other piece of equipment worked and I was sufficiently berated for apparently not knowing how to use my loop station (which I had been using without a problem for the past 6 years), he found out how to turn the limiter off. Whoops!
You may know how to run a 5 piece rock band, but I have more experience with my gear and my show. Why not put your ego aside for a second and work WITH me?
Who are you showing off for anyways?
3. You Think You Know How To Sing Better Than Me?
I'm not an inexperienced rap emcee who cups the mic forcing horrible feedback. I know better. If you're out there rappers, take note. Please don't cup the mic. It doesn't help your sound and pisses off the sound guy.
I've been singing professionally for over a decade. I know how to sing into a microphone. I get paid lots of money to do it on a regular basis.
Please don't tell me that I'm singing too close to the mic and that's why there's distortion. That's on you. I'm a singer/songwriter. I'm not screaming. I'm singing fairly softly. If you can't handle my proximity to the mic, maybe you're doing something wrong.
I know how to properly use my proximity to the mic. I pull in and out to keep my sound consistent and level.
Do not tell me how to sing. I'm not 15. I'm not an amateur. Want to piss ME off? Walk up to the stage and show me how I far away from the mic I should be. Asshole.
4. I Get It. It's Your Club. Must You Smoke IN MY FACE?
Why do most sound guys smoke? It's the culture I guess. But do the laws not apply to you? It's illegal to smoke inside. Well, I guess that's only when paying customers are there?
Just because we're in a rock club doesn't mean you should have any more freedom than if we were in a conference room and you were blowing smoke in my face. Am I not a guest in your establishment?
I don't smoke. I'm a singer. You're ruining my vocal chords, lungs, health and one of my only 3 clean shirts with your smoke.
If you must smoke, be a decent human being (like everyone else) and go the fuck outside.
5. Can I Get Some More… Oh You're Not By The Board. Cool.
It's your job to stay behind the board and mix. Not go outside and shoot the shit with the door guy for 20 minutes. Sure, if you need a smoke or a piss break, I get it. Dip out for a minute after you set a tune.
But nothing is more upsetting than finishing a song and asking for more or less guitar and seeing that the Front of House engineer is not at the front of house. Or the back of house. Or IN THE DAMN HOUSE.
Must I tip you $20 before the show starts to get you to put some effort in?
6. Is Tipping Mandatory Now?
Most of the time expenses are coming off the top of my cut. And many times I'm paying for sound. Like, it says in the contract "$150 off the top for sound." I'm more than happy to cover this, but do I also have to give you $20 at the start of the show to get GOOD sound? Are you going to leave the venue once I start the set if I DON'T tip?
If that's the case, then maybe a heads up would be nice. Seriously. If $20 is the new 20% at a restaurant, then speak now or forever hold your piss.
7. I Don't Understand Passive Aggressiveness
Some sound guys are cool if musicians move mic stands, monitors, amps, what have you. Others RAGE if you shift a vocal mic 2 feet to the right.
If you're the type to shit yourself if musicians start moving gear around, why not make an announcement at the start. "Hey guys, I have things setup and wired. If you need anything moved just let me know before you do it so I can make sure everything stays the same."
That would cause everyone a lot less stress and frustration.
If I shift a monitor 6 inches to point towards my face and then you shut off my mic and head to the bathroom for 15 minutes. I don't know what you're trying to tell me.
Other than that you need some laxatives.
8. Believe It Or Not I Showed Up For Sound Check For A Reason. To Sound Check.
The most frustrating thing is, after a thorough sound check, getting on stage in front of the crowd and having absolutely nothing stay the same. Then having to RE sound check in front of a full house.
Many times this happens when digital boards are being used. Where all you need to do is click "save." Are you that lazy?
If it's an analog board and there are a few openers I get it, you may need to RESET the board. I'll wait.
But if there's no way to save my settings, then let's not waste anyone's time. Don't give me a sound check. And we'll do a quick line check like I've done many many times before.
9. It's My Name On The Bill. Not Yours.
Meaning, it's my reputation on the line with hundreds (or thousands) of fans. If I have my shit together, rehearsed and deliver a solid performance, but it's botched coming out of the system because I forgot to give you $20 before the show, that looks bad on me. That could potentially cost me thousands in future show revenue.
No one will want to come to my show again if it sounds bad.
If the sound is shitty, you can blame it on us. But we look like douche bags if we blame it on you.
And just because only 35 people came out for this show doesn't mean you shouldn't do your best. Maybe one of those 35 is the agent I've spent 3 years trying to get out to see me. Maybe it's a music supervisor coming to find a song for her new movie. And you're half-assing my mix because you don't think it's a big deal?
I've spend hundreds of hours perfecting my sound and thousands of dollars in rehearsal space rentals, gear and studio time to get to this stage. And because you've never heard of me it's cool for you to take a 20 minute smoke break? Come on.