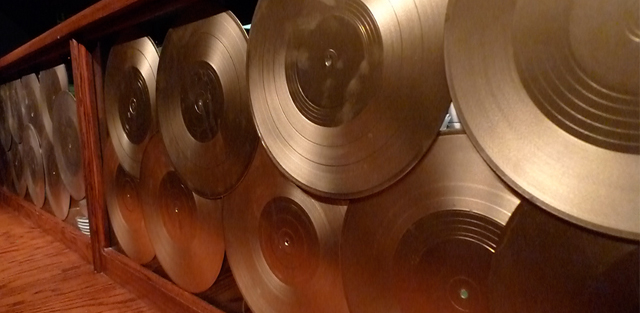 Albums seem to be a dying breed these days. Now more than ever we are in a singles driven society. Passive fans download and stream their favorite songs. But music lovers enjoy full albums.
I recently released my 3rd full-length album. It's not a collection of songs, but rather a complete piece of art. The album makes sense to me and hopefully to my fans as well.
Artists love creating albums because it's a process. A pause from life. A time to give credence to the vitality of our souls. To fully immerse ourselves in our first true love.
The reason artists continue to create albums is not because record labels tell them they need 12 songs to justify an $11.99 price. It's because artists truly love to create albums.
I know I do.
But, unfortunately, the album making process is expensive. Record labels are signing fewer acts. And advances are lower than ever.
Most artists of the world are creating records on their own dime. And I don't need to tell you that most artists aren't rich.
Here are ways to save money creating your album.
1. Spend Time On Pre-Production
This is an incredibly important aspect of your recording process. Maybe even the most important step. Working out as much as you possibly can before you step into the studio (on the clock) will save you a tremendous amount of money.
You want to rehearse the studio version of your songs to the point where you could play them in your sleep. Get the arrangements locked in. There should be no debate about how to get out of the bridge when you're tracking. Have your guitar/keyboard player and singer record scratch tracks to the click (of the exact BPM you will use for the song). Write the tempo BPMs down for every song, so when the engineer opens the first song on day one all you have to do is tell him "this song is called 'Maybe' and the BPM is 132." Don't waste time figuring out tempos in the studio.
You should figure out what program the studio is using (Pro tools, Logic) and if you can, record the scratch tracks in that program so all the engineer has to do is dump in those tracks. You'll most likely do much of the pre-production with your producer before hitting the studio.
2. Don't Waste Time In A Fancy Studio
It doesn't matter how successful the previous projects that were recorded in this studio are. It matters if you like the sound of the albums. Sure, it's a fun tidbit to include in the album's press release, but at the end of the day it matters what your album sounds like. I can't stress this enough.
You don't need a state of the art studio to track vocals. You need a good vocal mic and an isolation booth. That's it. But you do need a good sounding live room to get good sounding drums.
Shop around for great sounding drum rooms and spend a couple days tracking drums.
You can then track the majority of the other instruments at smaller home/mixing studios. It's not super rockstar, but neither is having to remortgage your home.
3. Hire The Right Producer
This is the most important person for your project. When you're seeking out producers, the first check you need to make is the gut check. Don't hire a producer before having an informal meeting, lunch, jam, whatever. This person will be with you every step of the way. You guys need to get along. You need trust.
You need to know that she GETS your project, your songs, your band. Figure out what her favorite albums are. Listen to some past records she's produced. Some producers will even offer to track one test song with you from start to finish for free. If you're on the fence about this producer, take her up on it – even if it's just in her home studio. It's worth it to get a feel for how she works and to see how well you vibe. You don't want to step into a $700 a day studio and start fighting with this producer. Not only will it mess up the overall vibe, you'll waste a ton of money!
Similar to the studio, the producer's resume is not as important as her skill.
There are so many "producers" out there who scam young bands into working with them because they promise stardom. Don't take the bait.
You can get virtually anyone to work on your record if you can pay them. Remember that. Find the best person for YOUR project. Not the person with the longest resume.
4. Run An Effective PledgeMusic Campaign
I profiled PledgeMusic a couple months ago and discussed how they are looking to completely change the album creation process.
It's a great way to raise money for your album and with a 90% success rate, PledgeMusic is the most effective crowd funding service out there – way above Kickstarter or Indiegogo.
PledgeMusic also brings your fans along for the entire process AND the moment your funding campaign finishes, the pre-order begins. You can continue to MAKE money while you're in studio – well after the funding period is over.
Full disclosure: I'm not associated with PledgeMusic or being paid by them. I've never run a PledgeMusic campaign. I'm just impressed by their service.
5. Don't Order Vinyl
I learned this the hard way. I promised my Kickstarter backers (before I knew about PledgeMusic) vinyl records for the $125 and above package. I didn't do complete research on vinyl before I promised this to my backers. I didn't realize that vinyl records can only hold about 22 minutes of music before the quality and volume is drastically reduced. The runtime of my latest album is 55 minutes. So, I needed to create a double LP. Nearly twice the cost.
Don't make the same mistake I did. Yes, vinyl is cool and trendy. I'm happy I have it. But it cost me WAY more than I had budgeted. If you're going to order vinyl, make sure you do your research and make sure there's demand amongst your fans.
6. Shop Around For Mastering
My biggest regret of my first album was not hiring a professional mastering engineer (I was 19 and stupid). Mastering is an incredibly important step of the process – even if most people don't really know what it is.
Mastering is the final sparkle. It can dictate the overall vibe. It's the difference between a professional sounding album and an amateur sounding one.
Because mastering is so nuanced and elusive, it's incredibly expensive. I've worked with some of the greatest mastering engineers on the planet. I sat alongside Bernie Grundman while he mastered my last record. He was worth every penny.
But that's not to say that you need the best of the best. Do your research and shop around. See who mastered your favorite (newer) records. Get recommendations from engineers, producers and other musician friends and then LISTEN to those records and make sure you like the mastering.
Ask your musician friends for their final mixes pre-mastering and the final masters. Can you tell the difference? Did it bring the songs to life? Did it add the sparkle?
Don't cut corners with mastering, but you don't need to hire the first great mastering engineer who returns your email.
Photo is by Ann Larie Valentine from Flickr used with the Creative Commons License


Ari Herstand is a Los Angeles based singer/songwriter and the creator of Ari's Take. Listen to his new album on Spotify or download on BandCamp. Follow him on Twitter: @aristake