"If we're going to preserve America's ability to create and export the world's greatest music, we have to modernize the music licensing system in a way that allows songwriters and artists to thrive alongside the businesses that revolve around our music." – Paul Williams, President of ASCAP
This past Friday at the ASCAP Expo at the Loews Hollywood Hotel, Congressman Tom Marino (R-PA) and Congresswoman Judy Chu (D-CA) sat alongside ASCAP President (and "Rainbow Connection" songwriter) Paul Williams and ASCAP's Executive Vice President / General Counsel, Elizabeth Matthews, and discussed how they are working to change the current copyright law so songwriters are properly compensated for their work.
Marino mentioned in his opening remarks to the room full of songwriters and producers, "most Americans don't realize how little compensation you get… we're going to change that in Washington," to much applause. He mentioned how much of an impact a group of singer/songwriters from his district had on him when they met for a long lunch, shared their songs and stories, gave him their CDs and revealed how difficult it is to make a living as a songwriter. And, most importantly, how the US Copyright law, as it stands today, has not kept up with technology or society.
"Most Americans don't realize how little compensation you get… we're going to change that in Washington," – US Representative Tom Marino
Marino is the vice chair of the House Judiciary Sub Committee on Intellectual Property and the Internet, serving alongside Congresswoman Chu. These two have a direct role in writing the copyright laws that directly affect songwriter's royalty rates.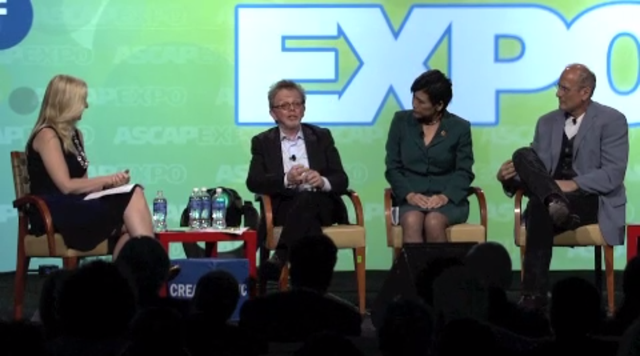 Let's step back.
Many people don't understand copyright law as it is today, let alone what ASCAP (along with BMI, SESAC, NMPA and The Recording Academy), is trying to get Congress to change.
Composition vs. Sound Recording
Every song holds two copyrights: one for the composition (the song – controlled by the songwriter or publisher) and one for the sound recording (the actual master recording, controlled by the record label or the artist). ASCAP represents songwriters and publishers and therefore is fighting for an update on the copyright that affects the composition.
What ASCAP does, specifically, is license its catalog to outlets for the right to "publicly perform" the songs ASCAP represents. Outlets range from AM/FM radio stations to TV stations to music venues to department stores to coffee shops to internet radio stations and streaming services (like Pandora, Spotify and YouTube – more on them later). ASCAP then monitors these outlets, collects money from the licenses, strips off overhead (ASCAP is a non-profit and has the lowest operating costs of any Performing Rights Organization (PRO) in the world), and then pays this money out to songwriters and publishers based on how often their songs had been publicly performed on the various outlets.
ASCAP Consent Decree
In 1941, ASCAP entered into an agreement with the Department of Justice because there was not much competition for ASCAP at the time and the Department of Justice wanted to make sure it was a level playing field. This consent decree laid out all the rules and regulations in which ASCAP can operate. (BMI – the other non-profit PRO in America has its own, separate consent decree with the Department of Justice).
But now, there's lots of competition and the law has remained the same. ASCAP VP Elizabeth Matthews said, "Another thing that has changed, is the nature of our licensees. Back in the 40s the vast majority of our licensees were mom and pop small businesses. Today, they are multi-billion dollar, publicly traded corporations. They are all lawyered up. We're talking about the Comcasts of the world. Disney, ABC, NBC, Google. They can take care of themselves." She continued, "We believe… these consent decrees… are not working anymore. They don't reflect the realities of how content gets distributed, how music gets consumed and it's creating a problem throughout the entire music ecosystem."
Under this consent decree, the moment someone requests a license from ASCAP, ASCAP must say yes. Before they can negotiate price.
Matthews used the analogy: "[It's like] if you wanted to buy a house and you couldn't come to an agreement on the price of the house, you could still move in and redecorate and they can't kick you out."
And during negotiations, if the licensee doesn't like the rate that ASCAP sets, they can take ASCAP to 'rate court.' This is what happened with Pandora.
Rate Court Dispute with Pandora
Under this decree (set in 1941 and inked in Section 114 of the US Copyright Act), there is one judge, appointed for life, who decides every ASCAP rate dispute. One person who decides the fate of 500,000 songwriters, composers and publishers and 8.5 million songs.
Matthews explained, "back in the Fall of 2012, Pandora dragged us into rate court…by our hair, kicking and screaming. We don't want to be in rate court… It's expensive. It's time consuming. It's distracting… We don't want to fight with our customers."
Pandora claimed it was paying out too much performance royalties. The performance royalties being paid out for the sound recording (not the song – remember that term? See above) are 14 times more than what is paid out for the song. But the way the law is written, ASCAP is unable to cite these examples in rate court to attempt to negotiate a better rate – per section 114 of the US Copyright Act.
Currently Pandora pays songwriters about 8 cents for every 1000 streams.
Well, the judge came to a decision. Pandora didn't get the rate they asked for, but neither did ASCAP.
"You are not being paid a fair rate. And while that is bad news, in some ways it's good news because we hope that it serves as a wake up call. You have got to start to stand up for your rights. And you've got to get involved." – Elizabeth Matthews, Executive VP, General Counsel, ASCAP
Songwriter Equity Act
There is finally a bill in Congress to right these wrongs. To fix a broken royalty system setup long before the internet was just a twinkle in Al Gore's eye.
Marino speculated that they could have a piece of legislation before the end the year. He said that the Judiciary committee is about 1/3 of the way through the evaluation process.
The Songwriter Equity Act (HR 4070) which was introduced by Congressman Doug Collins (R – GA) on February 25th, 2014, updates Section 114 and 115 of the US Copyright Act that have prevented modern songwriters from collecting fair market royalty rates for their work.
A Section 114 update would allow the Rate Court judge to consider other royalty rates (like the current sound recording rate) when hearing cases about what is a fair rate for performance royalties. And a Section 115 update would allow the Copyright Royalty Board to increase the mechanical royalty rate for both streams and sales.
It's worth noting that ASCAP will not gain from an update of Section 115, as ASCAP does not collect mechanical royalties. However, ASCAP is fighting on behalf of songwriters and publishers and this will benefit them.
There is currently no Senate version of this bill and no Senator has offered to sponsor one, but ASCAP's President, Paul Williams said "We're discussing it."
Performance vs. Mechanical Royalties
Performance royalties are paid out by Performing Rights Organizations (PROs), like ASCAP, BMI, and SESAC in the US, SOCAN in Canada, and others worldwide. These royalties come from the 'public performance' of a song – like on the radio (internet, satellite or AM/FM), TV, anywhere streamed on the internet, coffee shops, and basically anywhere that plays music (live or recorded), must get a license from a PRO to legally 'publicly perform' this music.
Mechanical royalties come from the reproduction of the song. Like when it's downloaded on iTunes, sold on a CD or streamed on Spotify. The current rate for mechanical royalties is 9.1 cents per reproduction (like a download or CD sale), and the rate becomes much more complicated for streams. This rate started at 2 cents in 1909 when it was created and has increased so minimally because of the current law which does not take into account current market value.
Get Involved
Both Congressman Marino and Congresswoman Chu said the best way to urge members of Congress into supporting this Act is to visit them at their offices – both in DC and at home in their districts.
"You may wonder whether you writing a letter or you talking to your member of Congress can make a difference. And I'm here to tell you that it can make a difference." – US Representative Judy Chu

If you are a songwriter and want higher royalties (both performance and mechanical) when your songs are streamed on Pandora, YouTube, Sirius/XM, Spotify, Beats, downloaded on iTunes or covered by other artists, you can help.
You can sign your name to a pre-written letter (or alter it to your liking) here and ASCAP will get it sent to your representative.
If you want to go a step further and really help change the course of music history, you can get a group of songwriters together and visit your representative (with your guitars and CDs) when he or she is back in your district or the next time you tour through DC!
Let your Congress member's office know that you'd like to talk about the Songwriter Equity Act and play some songs for them. This takes a bit more more effort, but it will be a story you can tell your grandchildren.
Make sure to get some talking points from ASCAP and bring your royalty statements along with.
Document your experience and send in your photos, videos and letters to Digital Music News and we'll share them.
You can signup to be informed about ASCAP's music advocacy efforts here.
"What's going to happen in the next year or two is going to set the course of our industry for decades to follow" – Elizabeth Matthews, Executive VP, General Counsel, ASCAP